What's the appeal of outdoor swimming? New BBC4 documentary Swimming Through the Seasons finds out!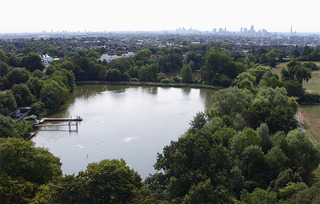 The ponds on London's Hampstead Heath are a haven for outdoor swimmers. 'They do it for so many different reasons it's hard to pin-point one universal motivation,' reveals the documentary's co-director
To most people the act of breaking ice to have a swim outdoors in 3˚C water on a dark January morning ranks alongside having a root canal or walking over burning coals – yet the number of people outdoor swimming all year round in Britain has grown quickly in the past few years.
The Outdoor Swimming Society has more than 36,000 members and climbing. And now a beautiful new documentary, Swimming Through the Seasons (BBC4, Mon, May 20), follows a group of these year-rounders at the three swimming ponds on Hampstead Heath, London.
Co-director Patrick McLennan reveals more about the characters he filmed over 12 months and what inspires their jaw-dropping passion for outdoor swimming.
So, what's the appeal of outdoor swimming? Why do people like leaping in freezing water?!
Patrick McLennan: "They do it for so many different reasons it's hard to pin-point one universal motivation. But a lot of people find it an escape from pain, whether physical, psychological or emotional. Others talk about how the cold water instantly transforms their mood, so if they're a bit lethargic or low, a dip in 5˚C water quickly gets the endorphins buzzing!"
Can you tell us a little about some of the people we'll meet in the documentary?
PM: "The three main characters include Carrie, a breast cancer survivor who we first meet swimming three months after her double mastectomy; Tom, an American businessman who was almost killed by a bus on Oxford Street; and Chris, an old school tailor who's been swimming at the ponds for six decades."
Do people go in even when it's snowing?
PM: "Yes, one of my favourite scenes in the documentary is when three mates meet at the Men's Pond just after the Beast from the East hit the UK and literally break the ice to have their swim. Their sense of fun is so infectious."
Why did you want to make the film?
PM: "There's increasing awareness that outdoor swimming can help people in many ways. People are using it to help cope with depression, anxiety, addictions and arthritis, among other illnesses, and myself and co-producer Samuel Smith wanted to help spread that message. But also, the ponds are stunning and the swimmers are great characters. We wanted to produce a vivid and interesting film with good stories and lots of emotion."
Do people swim there in their 80s and 90s?
PM: "There's one chap who still swims in his 90s, while Ladies' Pond legend Aggie celebrated her 80th birthday at the pond while we were filming. The regular swimmers tend to be older, because the cold water makes them feel young, but young people are increasingly switching on to the 'buzz' of outdoor swimming."
Why is outdoor swimming growing fast?
PM: "Life is always better after a swim and that message is being shared among friends, especially younger women. It's becoming a great bonding activity and groups are forming all around Britain. The cold-water buzz is a very addictive sensation."
Swimming Through the Seasons - The Hampstead Ponds is on BBC4 on Monday May 20th at 9pm.
Get the latest updates, reviews and unmissable series to watch and more!
Thank you for signing up to Whattowatch. You will receive a verification email shortly.
There was a problem. Please refresh the page and try again.