Patrick Grant: 'Sewing isn't just for girls'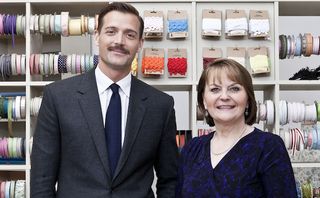 The Great British Sewing Bee's judge Patrick Grant has tackled the idea that an interest in needlework is girly.
Patrick, who judges the sewing competition with May Martin, says that any opinion of sewing as being something men wouldn't do is outdated - and he has the male contestants on the BBC show to prove it.
He told the Radio Times: "I think the stereotype of sewing is disappearing. It's very intricate and quite a manly thing to do. It's kind of like Meccano and Lego. It's making stuff.
"Back in the day, the tools for tailoring were incredibly heavy and it was always men who did it."
He added of the TV sewing contest, now in its third series: "We're 40 per cent men this time - six women and four guys - and two of the guys have been in the Army! They're blokey.
"Perhaps they might not have wanted to raise their heads above the parapet when we first started, but I hope that we've shown that there's nothing girly about making clothes."
Patrick explained his own route into stitching for a living had been unconventional because he started out studying engineering at university.
He said: "I studied materials science and engineering and that's basically the discipline of how you put things together. You design something, you select the material, you work out how to join those things together and finish them.
"It doesn't really matter at that point whether you're making the brake for a high-speed train or a pair of trousers. I treat clothing with the same level of rigour and integrity as I did when I worked for companies that made industrial products."
Patrick also dismissed claims that he's trying to be the next Paul Hollywood.
Although the needlework competition has a similar format to The Great British Bake Off, on which Hollywood appears as a judge with Mary Berry, Patrick said that the similarity ends there.
He added: "I watch Bake Off, but I didn't study Paul for tips. The shows are very different. We all eat cakes and bread so we have an understanding of how these things should taste, but a lot of people don't know how clothes should fit.
"Our task is to help people appreciate the nuances of cut and fit and construction."
The Great British Sewing Bee continues on BBC2, Thursday at 8.00pm.
Get the What to Watch Newsletter
The latest updates, reviews and unmissable series to watch and more!