Paul O'Grady: 'One of the dogs appeared in a scene with Ken and Deirdre!'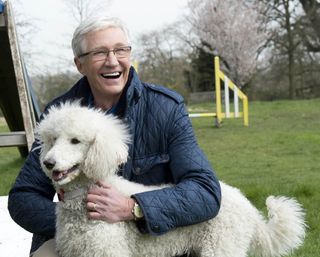 Paul O'Grady (opens in new tab) is back for another look at life at Battersea Dogs and Cats Home in For the Love of Dogs, which returns on Thursday, September 4 at 8.30pm. TV Times (opens in new tab) took him for walkies to find out more…
So did you come away from Battersea empty-handed this time…
"I didn't, no. I fell by the wayside, badly. I took home this gorgeous Boxer-Staffie cross-breed puppy called Tulip, but unfortunately Eddie [Paul's Chihuahua-Jack Russell cross-breed he adopted after series one] hated her. He's so possessive and he thought she was taking affection away from me, so he bullied her ruthlessly. It got to the point where we had to hide so that Eddie wouldn't find us! It wasn't working out – we found Tulip another really good home, but God I was upset!"
Have any of your mates jumped on the dog-owning bandwagon as well?
"My friend Moira took a Labrador puppy. It's deadly in there. You go in saying, 'No, I'm not getting involved!' but of course you can't help it and you form a bond with them."
So tell us about some of the dogs on the new series?
"We had a Bull Mastiff called Freddie, who was adopted by a woman in Denmark. He was wonderful – I drove him to Harwich and went on the boat with him. We even filmed him steering the boat with the captain! We also took a dog up to Manchester to film on Coronation Street. We wanted to raise her profile so she appeared in a scene with Ken and Deirdre!"
How have you changed as a presenter on the show?
"I was watching a preview of the new episodes and I kept thinking, 'When did I turn into Catherine Tate's nan character?!' I keep going into kennels saying, 'Hello sweetheart!' – I've never called anyone 'Sweetheart' in my life!"
How is your health now?
"I feel smashing. I do a lot of hiking about at the farm and I've taken to camping – at my time of life! We had the woods coppiced and it's wonderful to sleep out there. I had to get someone to put the tent up for me though, or else I'd have had another heart attack with rage trying to assemble it!"
So you're not taking it easy?
"The worst thing for your health is to sit down on the sofa, count your tablets and watch daytime TV. Last November I was out of hospital on Thursday and back at work Monday. My cardiologist rang me and said, 'What are you doing? You said you were going to take it easy and you're fire-eating with McFly!' But it's all about state of mind."
You're good friends with Cilla Black. Are you looking forward to seeing Sheridan Smith play her in the new ITV drama Cilla?
"I'm very much looking forward to it, but it's going to upset Cilla. She's nervous about the reaction when it goes out and how she's going to feel seeing it all again. I said to her, 'You can't remember last week, let alone The Cavern in the 1960s, what are you fretting about?!'"
And you introduced Sheridan to her, didn't you?
"Yes, I took Sheridan to have dinner with Cilla and she was terrified – Cilla was really sweet to her, but Sheridan was a bag of nerves. She kept saying, 'It's Cilla Black!' and I said, 'I know!' Cilla's like my sister – she will borrow my glasses so she can read the menu in restaurants and we often share a starter or a dessert. Sheridan couldn't get over our relationship. That evening gave her a great insight into what Cilla's really like."
Caren has been a journalist specializing in TV for almost two decades and is a Senior Features Writer for TV Times, TV & Satellite Week and What's On TV magazines and she also writes for What to Watch.
Over the years, she has spent many a day in a muddy field or an on-set catering bus chatting to numerous stars on location including the likes of Olivia Colman, David Tennant, Suranne Jones, Jamie Dornan, Dame Judi Dench and Sir Derek Jacobi as well as Hollywood actors such as Glenn Close and Kiefer Sutherland.
Caren will happily sit down and watch any kind of telly (well, maybe not sci-fi!), but she particularly loves period dramas like Call the Midwife, Downton Abbey and The Crown and she's also a big fan of juicy crime thrillers from Line of Duty to Poirot.
In her spare time, Caren enjoys going to the cinema and theatre or curling up with a good book.
Get the latest updates, reviews and unmissable series to watch and more!
Thank you for signing up to Whattowatch. You will receive a verification email shortly.
There was a problem. Please refresh the page and try again.