Corrie's Paula Lane: 'My next role will be very different to Kylie'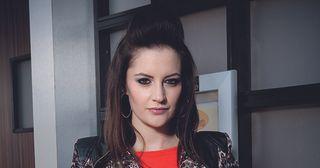 Paula Lane has blazed her way through some hard-hitting story lines as Kylie Platt in Coronation Street, but now she is set to leave Weatherfield for good.
When Paula Lane first appeared on Coronation Street as Kylie Platt (nee Turner) she'd only been signed up for six months.
But it was clear from the off that Kylie, the wayward sister of Becky (played to perfection by Katherine Kelly), would be a hit with her unique brand of gobby back-chat and hooped earrings as big as her personality. This week Kylie is set to leave Weatherfield for good.
We've been told Kylie dies suddenly… How did you feel when you found out you would be leaving Corrie? "My mum is devastated, but I am more than happy with the exit they have written for my character. I made no secret of the fact that I didn't see myself in a long-running drama for the rest of my career. It would have been nice to have the door open, but I am getting a big impact exit and I hope I can go on to do other things."
Can you reveal anything about Kylie's last storyline? "I can't give details, but when they sat me down and told me how Kylie would leave, I went 'Woah!' I'm not just saying this because I am part of it, but I don't think I have ever read an ending like this. It's something else. I've never had to play dead for the cameras before and I'm not practised in staying still. I hope my eyes don't start flickering!"
Your departure coincides with the birth of your second child this month! Will you take some time off after Corrie? "I am going to take as much time as I can this time. With Arthur [Paula's first child], I was on fast forward a bit. I am hoping it to take it easier second time around. I am a big believer in fate and I think the right job will come along at the right time, although I am mindful not to jump at the first thing. It will have to be a very different role to Kylie and something that stretches me."
How did you break the news to Jack P Shepherd [on screen husband David Platt] that you were leaving? "I was dreading telling him. I kept saying to him 'I need to talk to you' and it was a really awkward moment. Jack is a very laid-back person, but you could see the news land if you like. It is so hard when you have worked with somebody for six years and have to say 'I am going and I won't ever be coming back'."
How do you think David will cope when Kylie dies? "It's heartbreaking really because I could have seen Kylie and David lasting a lifetime together. Poor David thinks he is about to have a happy ending with Kylie. The late Tony Stewart has taken the rap for Callum's murder and the couple are planning to jet off to Barbados with the kids to start a new life.
"You see the old Kylie and David again, all that excitement and being young and carefree, but while we were filming that, the crew were sad because they knew what was coming. We build the audience up and then we crash them down!"
Will you keep watching Corrie after leaving the show?"If I am not up to my eyes in nappies, I will stay a fan of the show because it has been a part of my life for six years."
What will you miss most about being part of the show? "I will really miss the people, the buzz on set when a take goes really well and the Platts. We are very tight as a group of actors and I will miss working with them for a long time. Harry McDermott, who plays Max, is devastated about me leaving. I've worked with him since he was four-years-old."
Will you miss people recognising you as Kylie in the street? "I made a conscious decision not to be high profile. Acting for me has always about being other people. I have been lucky because when people see me in the flesh, they are not always sure that I play Kylie and I usually have time to make a swift exit."
What's been your favourite moment and proudest achievement from your time at Corrie? "It would have to be the live episode in September last year [when Kylie bludgeoned Callum Logan to death with a wrench]. The audience were completely oblivious to what Jack and I were doing logistically – we were full on running around the sets with about 30 seconds to spare. It was crazy to think all those millions of people were watching us through the lens. Nothing will ever top that."
Get the latest updates, reviews and unmissable series to watch and more!
Thank you for signing up to Whattowatch. You will receive a verification email shortly.
There was a problem. Please refresh the page and try again.