Peep Show's David Mitchell and Robert Webb on their new Channel 4 comedy Back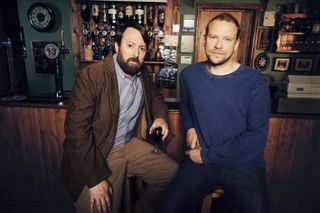 (Image credit: Mark Johnson)
David Mitchell and Robert Webb play warring foster-brothers who run a pub together in the new Channel 4 comedy Back. We sat down with them for a pint and a chat...
What can you tell us about your characters in Back?
Robert: "David plays Stephen, who has just inherited a pub in Stroud. He meets my character, Andrew, at his father's funeral. Stephen's parents fostered lots of kids, and Andrew was one of them. Now he's come back to – accidentally or otherwise – make Stephen's life an utter misery."
David: "Stephen's not got a magic touch with anything in his life, really. His marriage has fallen apart, and he was a lawyer briefly but something went wrong there."
What are their different visions for the pub?
David :"Stephen has recently refurbished the pub, but he's ripped out all the character and done it all in gleaming pine. Whereas everything Andrew says about the way this pub should be is right."
What sort of pubs do you like in real life?
Robert: "We like getting served quickly. And the music shouldn't be too loud, so you can hear your friends."
David: "A pub that's quiet enough to get a seat, but busy enough not to close."
Have you ever worked in a pub?
Robert: "I served behind the bar for exactly one night in a local hotel, and I didn't like it. I was an A-level student at home in Lincolnshire, and I found it deeply intimidating. There was one of those old-fashioned tills where you had to put ten fingers on the buttons at once. And it involved a lot of mental arithmetic, which is not my strong point. So I nearly had a heart attack!"
You spend a lot of time working together - do you ever fall out?
Robert: "There have been years when, due to work, we just weren't out of each other's sight, so we treated each other with steely courtesy."
David: "We don't row with each other. It's either genuinely nice or it's outwardly polite!"
How tough an act is Peep Show to follow?
David: "The only downside to doing something that's gone well is the worry as to whether the next thing will also go well or not."
Robert: "We got to know Mark and Jeremy so well that it's always going to be a weird comparison. But hopefully people will bear that in mind when they go: 'It's not as good as Peep Show!' Give us a couple of series and see..."
Back starts on Channel 4 on Wednesday 6 September
Ian writes about TV and film for TV Times, What's on TV and TV & Satellite Week magazines. He co-hosts the weekly TV streaming podcast, Bingewatch.
Get the latest updates, reviews and unmissable series to watch and more!
Thank you for signing up to Whattowatch. You will receive a verification email shortly.
There was a problem. Please refresh the page and try again.