Pete's Peek | Baba Yaga: The Final Cut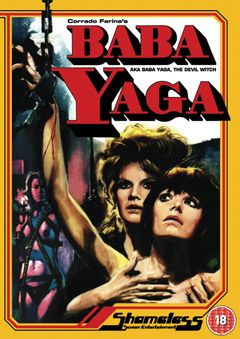 Those brilliant folks at Shameless have done it again. Found another Euro-shocker gem to add to your DVD collection. Baba Yaga is a 1973 Italian/French co-production that has nothing to do with the legendary Russian character of the title, but instead is a kinky comic-book adventure about bondage and sorcery.
Based on famed Italian comic-artist Guido Crepax's 1960s Valentina series, Carroll Baker (she of Baby Doll fame) plays a witch who puts a death curse on the camera of a well-known Italian photographer, Valentina (Isabelle De Funes), in a bid to possess her body and soul. Poor Valentina then finds herself on a seductive journey into Baba Yaga's magical world, where dominatrix dolls come to life and depraved sexual fantasies are fulfilled.
35 years on – and now restored by Shameless and director Corrado Farina – Baba Yaga remains a beautiful-looking cult classic with a groovy Piero Umiliani soundtrack (though the Italian tourist board would hate the way Milan looks – all crumbling edifices and streets littered with burnt out cars). The new DVD also comes with a choice of English or Italian sound, and benefits from a couple of documentaries about Crepax's artwork. A must-have.
Released 27 April http://youtube.com/v/7mZ3gBsNpEw
Get the What to Watch Newsletter
The latest updates, reviews and unmissable series to watch and more!