Pete's Peek | Welcome to Blood River. Are you ready to repent?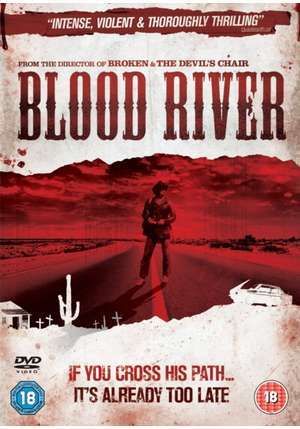 Don't go watching this thinking you are about to experience yet another young couple versus psycho chiller. Blood River is a slow-burning psychological thriller that will grip you throughout.
Seemingly nice and respectable newlyweds Clark (Ian Duncan) and Summer (Tes Panzer) are on their way across the Nevada desert to visit Summer's parents when their car has a blow out. After walking miles to the nearest town, Blood River, they discover it deserted.
Lone drifter Joseph (Andrew Howard) then arrives and offers his assistance. But there is something very strange about Joseph. He speaks in Bible quotes, has witnessed the death of a motel clerk, and seems to be following our loved-up couple.
Joseph convinces Clark to join him on a long walk to the next town in search of petrol, leaving the pregnant Summer behind. But the journey turns into a series of mind games as Joseph tries to get Clark to reveal his true self, and repent whatever sins he may have committed.
Welsh actor Andrew Howard (catch him in Isle of Dogs at FrightFest on 28 August) is just brilliant here as the chain-smoking, hooch-sculling Joseph. From the outset, we know there's something supernatural about Joseph, but is he a demon or an avenging angel?
With his small cast, intelligent script, sombre score and searing desert location, director Adam Mason has carved a dark and unsettling thriller that will have you running to the confessional (if you are religiously-minded, that is) just as soon as the credits finish.
Out now http://youtube.com/v/XLOp2eg6n84
Get the What to Watch Newsletter
The latest updates, reviews and unmissable series to watch and more!