Pete's Peek | Christopher Lee goes for goth in the atmospheric 1960s horror Castle of the Living Dead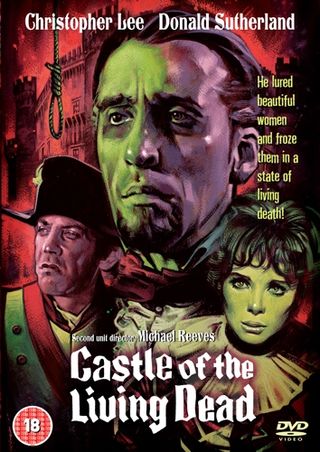 A hero dwarf, a scythe-wielding henchman, Christopher Lee playing a necrophile aesthete Count and a baroque setting that wouldn't look out of place in a Tim Burton film makes for a fantastic voyage into vintage horror in 1964's Castle of the Living Dead.
Set in the aftermath of the Napoleonic Wars, this black-and-white chiller finds mad taxidermist Count Drago (Lee, looking wonderfully funereal with his neat goatee, dark-rimmed eyes and glossy black hair) creating a tableaux of embalmed women in the bowels of a creepy castle that's festooned with stuffed ravens, owls and pelicans.
When a troupe of travelling performers fail to heed the warnings of a local witch (one of Drago's failed experiments) and decide to perform for the Count, young dancer Laura (Gaia Germani) finds herself next to be added to Drago's ghoulish collection. Her only hope of survival lies in the hands of an unlikely hero - a dwarf (Antonio de Martino).
This imaginative Italian production was directed by Luciano Ricci (using the name Herbert Wise) and screenwriter Warren Keifer. Now, if that last name rings a bell then it should because Donald Sutherland - who plays the dual role of a police sergeant and the ugly witch - would later name his son after Keifer.
It's also the film in which future Witchfinder General director Michael Reeves got his break. The 20-year-old was initially employed to do second-unit work, but ended up doing a whole lot more. Though he never got to shoot any scenes with star Lee, he was responsible for introducing the character of the dwarf. And his sterling work on the horror would result in him directing his first picture, The She Beast, the following year. As a side note, Reeves also appears as one of the frozen officer's in Drago's gruesome gallery.
Beautifully shot in icy monochrome by Fellini's cinematographer, Aldo Tonti, the film's most memorable moments include a mock hanging (Reeves would later film a similar scene for the opening of Witchfinder General) and the henchman and dwarf dueling in a garden of surreal statues and on the castle ramparts (the real-life Odescalchi Castle and Bomarzo Park in Lazio, Italy).
Packed with nods to Bergman's The Seventh Seal, Poe's Roderick Usher, the legend of Bluebeard, and Hitchcock's Psycho, this is an atmospheric exercise in vintage gothic horror that's actually got better with age.
The new DVD release has been digitally remastered with restored original mono soundtrack, and includes the original trailer and notes by Michael Reeves' biographer Benjamin Halligan (opens in new tab).
Released 23 January on DVD through Odeon Entertainment http://youtube.com/v/CoOqNxPAu0k
Get the latest updates, reviews and unmissable series to watch and more!
Thank you for signing up to Whattowatch. You will receive a verification email shortly.
There was a problem. Please refresh the page and try again.