Pete's Peek | OMG! So that's what happened to Rosemary's Baby!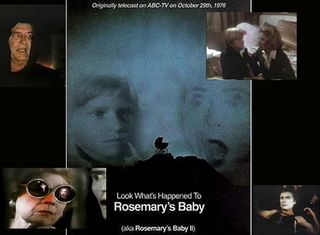 Horror fans will remember Roman Polanski's 1968 horror classic Rosemary's Baby in which Mia Farrow unwittingly spawns Satan's son, Adrian. Well who could forget those terryfying words as she gazes at her newborn? 'What have you done to him? What have you done to his eyes, you maniacs!'
But did you ever want to know what happened after Rosemary joined the Devil's nursery? Well, here's your chance as The Horror Channel screens the rarely-seen 1976 sequel, Look What's Happened to Rosemary's Baby, on Sunday 27 November at 4pm. Also on Monday 28 November (10am) and Saturday 3 December (12noon).
Stephen McHattie plays a grown-up Adrian who, separated from his mother (Patty Duke, who actually tried out for the original film), takes to the road in a Triumph TR7 in a bid to outrun the occult forces hunting him down in a bid to get him to embrace the dark side.
This TV-movie may lack the slow-burning suspense that makes Polanski's film a masterpiece, but it does boast a great cast of character actors including Ruth Gordon, who reprises her role as the meddlesome Minnie Castevet; Ray Milland as her husband Roman, and George Maharis is Adrian's soul-selling dad Guy Woodhouse. Gilligan's Island's Tina Louise and Knots Landing star Donna Mills cameo, which is a bonus, as is the great theme tune. It might not be a true classic, but its a classic of its time and I've been hunting this one down for years. Thanks Horror Channel.
http://www.youtube.com/watch?v=h6aCeztppUw&fs=1
And talking of demonic offspring, here's a brood that belong in every horror collection... just click on the links for a trailer.
THE BAD SEED Rhoda (Patty McCormack) She may not be Satan's offspring, but Rhoda might as well be. She's a heartless killing machine and the total antithesis of 1950s suburban culture. She also set the bar for cute killer kids in the cinema, who continue to terrorise in the guises of manipulative Joshua (Read MovieTalk Beth's review here) and evil Esther in Orphan (2009).
VILLAGE OF THE DAMNED (1960) OK, so these kids aren't demonic, but they're spooking glowing eyes and blonde hair really scared the life out of me as a kid - much more so than other genetically-altered spawn like the mutant infant in 1974's It's Alive.
THE EXORCIST Regan (aka Pazuzu) Linda Blair's blasphemous, bile-spewing possessed little girl ushered in the cycle of demonic child movies in the 1973. The film was ripped off in the osbcure 1974 blaxploitation film, Abby, while Blair ended up lampooning her iconic character in 1990's Repossessed.
I DON'T WANT TO BE BORN Joan Collins gave birth to a demon-possessed baby in this British quickie set in Swinging Seventies London - one of a host of films that tried to cash in on Rosemary's Baby's success. It remains a real guilty pleasure, though.
THE OMEN Damien (aka the Antichrist) The 1976 horror classic spawned two sequels, a TV-movie and a remake (featuring Rosemary Baby's Mia Farrow in Billie Whitelaw's iconic role as Damien's nanny) and remains a firm favourite with horror fans. • Catch the first three Omen films on Film4, Saturday 26 November, from 9pm
CHILDREN OF THE CORN Adapted from Stephen King's novel in 1984, this tale about a cult killer children in a small Nebraska town shares a lot in common with the superb 1970s British chiller Blood on Satan's Claw and which spawned a host of spin-offs and a 2009 remake.
Do you have a favourite demonic kiddie film to add to this list, then just leave a comment (by clicking here).
Get the What to Watch Newsletter
The latest updates, reviews and unmissable series to watch and more!