Pit Stop (1969) | Blu-ray release - Jack Hill's cult stock car crash-o-rama spins out onto high definition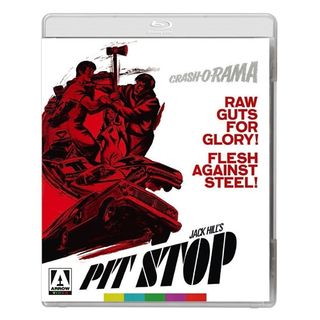 SYNOPSIS Street punk Rick Bowman (Richard Davalos) winds up in jail after an illegal race goes wrong. Bailed out by stock car race promoter Grant Willard (Brian Donlevy), Davalos is put in a deadly new track called The Figure Eight, where he comes up against maniacal winner Hawk Sidney (Sid Haig)…
THE LOWDOWN Featuring a great cast of character actors including Brian Donlevy (in his final film appearance), Ellen Burstyn (in her third film, as Ellen McRae), and Spider Baby's Sid Haig and Beverly Washburn, Pit Stop (aka The Winner) might be one of cult director Jack Hill's lesser known films, but its arguably one of his best. Filmed on an actual Figure-8 track, Hill and his crew were able to capture gripping real-life car wreck scenes lending the film a brilliant sense of realism. Following Arrow Video's release of Hill's blaxploitation classic Foxy Brown and cult favourite Spider Baby, Pit Stop has been treated to an all-new restoration that hopes to bring fresh interest to the 1960s actioner.
THE ARROW RELEASE Arrow Video's dual-format Blu-ray and DVD edition includes an audio commentary with JackHill, interviews with the director, Sid Haig and producer Roger Corman, and a demonstration of the extensive restoration work by James White (watch the clip here). The collector's booklet includes essays by film critic Glenn Kenny and a history of the Seattle psych band The Daily Flash and their soundtrack to Pit Stop.
DID YOU KNOW? Richard 'Dick' Davalos (East of Eden) graces The Smiths' 1987 album, Strangeways Here We Come.
http://youtube.com/v/5_H0YGmeZ_o
Get the latest updates, reviews and unmissable series to watch and more!
Thank you for signing up to Whattowatch. You will receive a verification email shortly.
There was a problem. Please refresh the page and try again.