Poldark role saved new cast member Ellise Chappell from working in a cafe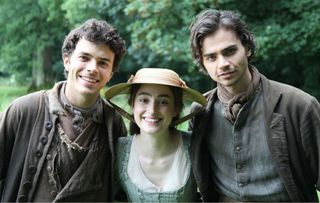 New Poldark recruit Ellise Chappell has revealed she was on her way to ask for her old cafe job back when she got the call to offer her the role of Morwenna.
Landing a role on the new series of Poldark saved actress Ellise Chappell from having to return to work as a barista, she has revealed.
The 24-year-old was on the way to re-apply for her old coffee-making job after starring in TV movie The Last Dragonslayer when she was alerted that she had secured the part of Elizabeth's cousin, Morwenna.
Ellise told the Mail On Sunday's You magazine: "I got the Poldark call as I was walking to the cafe in North London where I used to be a barista to ask for my old job back.
"I stopped in my tracks, turned around and skipped home."
But she has not ruled out returning to her old haunt one day, adding: "This career is unpredictable but I know there's always a way to make money in the end.
"You can come up with ideas. If there's a dry patch, I can go back to the cafe, or I'd love to write a children's book one day."
She added her parents "pretty much wet themselves" when she passed on the news about landing the role in Poldark.
"When I rang my mum to tell her she couldn't stop laughing and I was crying. Then I started laughing and she started crying," she said.
Get the latest updates, reviews and unmissable series to watch and more!
Thank you for signing up to Whattowatch. You will receive a verification email shortly.
There was a problem. Please refresh the page and try again.