Poldark is back! New trailer for series two released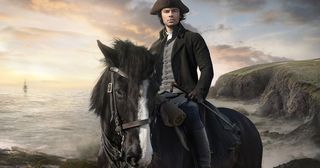 Be still our beating hearts... Captain Ross Poldark rides back onto screens in a few weeks. If you can't wait until then, here's the BBC's first-look trailer for series two of Poldark.
At last, the wait is over. Everyone's favourite Cornish hero, Captain Ross Poldark, is back.
"I fought for our liberty, for our hopes, for our dreams," says Ross in the action-packed trailer. "And I'll keep on fighting, whatever the cost."
https://youtu.be/ZFMUN-CIPUg
Fans hoping for a repeat of last year's topless scything scene should steal themselves for disappointment. Series two of the 18th-century drama picks up "exactly where we left off from last year," leading man Aidan Turner confirmed at MCM Comic Con earlier this year.
And that means it's autumn. As we all know, autumn in Cornwall is a bit nippy, so shirts will be staying well and truly on this series.
There may be no topless scything, but there will still be some steamy scenes if the new trailer is anything to go by.
It will be a sombre opening to the second series, however. "It's a time when Ross and Demelza (Eleanor Tomlinson) have just lost their child, his company is down the pan, they're broke, and he's been arrested," explains Aidan, who plays the swarthy hero. "It looks like he's going to prison. It's a cheery beginning."
Series two has already caused controversy even before it's aired. In the forthcoming series, a scene that many readers of Winston Graham's original novels believed to be rape is portrayed as a consensual sexual act between Ross and his first love, Elizabeth.
The Sun quoted Aidan as saying: "It seems consensual, and it just seems right. He goes to talk. He doesn't go to commit a crime.
"They talk and it seems like there is still this spark between them, this unfinished business emotionally. He doesn't force himself upon her."
Poldark returns to BBC1 on Sunday, September 4.
Get the latest updates, reviews and unmissable series to watch and more!
Thank you for signing up to Whattowatch. You will receive a verification email shortly.
There was a problem. Please refresh the page and try again.