Poldark star Aidan Turner reveals he's single after splitting from actress girlfriend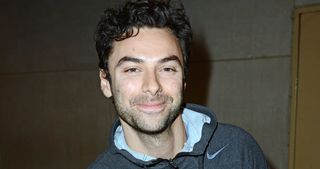 (Image credit: Everett/REX Shutterstock)
He has set many hearts beating thanks to his shirtless adventures as Captain Ross Poldark in the hit BBC1 series; now Aidan Turner has confirmed he is single.
Aidan confirmed recent rumours that he had split from his long-term girlfriend, Burnt actress Sarah Greene, after five years.
Aidan Turner and Sarah Greene in 2012 (Jon Furniss/AP)
The 32-year-old Hobbit star revealed the break up, but told the Daily Telegraph: "I like to keep my private life private for my own head.
"It's important to me that people don't know too much about me because I'm trying to play characters.
"Sometimes you see actors who are really good, but you have trouble separating that actor from the celebrity profile. I don't want to be one of those guys. It helps that people don't know a lot about me, I guess."
Aidan had previously thought about moving to New York to be closer to Sarah, who is also Irish.
Aidan Turner (Richard Shotwell/Invision)
He told Woman magazine in April: "I'm thinking of moving to New York soon. That's the great thing, as an actor these days you can be anywhere because a lot of meetings are on Skype.
"It's not like 10 or 12 years ago when all the Irish actors were in London. Now you can be in a city for reasons other than your career."
He previously admitted that work often kept the pair apart, but insisted in an interview with the Daily Mirror: "It's all we've ever known and it makes for good times when we meet up again and maybe have a month straight when we're both unemployed and watching movies every day."
Now, however, Aidan is moving on – and is back to single life.
Get the latest updates, reviews and unmissable series to watch and more!
Thank you for signing up to Whattowatch. You will receive a verification email shortly.
There was a problem. Please refresh the page and try again.