Rebecca Front: 'The therapist I play is madder herself now!'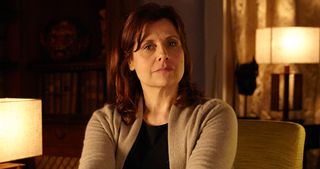 Rebecca Front returns this week as a quirky counsellor who conducts therapy sessions with some of history's most inconic women in Psychobitches. TV & Satellite Week caught up with her to find out more... (Tuesday, Sky Arts 1 HD)
Has the show upped the ante this time? "Yes, it has got even more confidence and we are getting extraordinary people in like Richard E Grant who plays The Witchfinder General when we do a workshop with witches through the ages, and Alexa Chung as The Girl in the Pearl Earring. Every day you look at the call sheet and think, 'I can't believe these people are coming in'."
How has the therapist developed? "We see more of her inner life and what's going on between the sessions. She's madder herself now and gets out of her chair and dances and even fights."
Do you have a backstory for her? "No, funnily enough. I'd never normally dream of playing a character whose name I didn't know but I don't think the audience need that depth with her because it is funnier that she is a mirage, some strange ethereal character with no particular personality."
She's not that great at her job though, is she? "No, she's not. I suggested to Jeremy early on that maybe I should research different types of therapy and he said, 'Don't do that, she's not supposed to be any good!' Because I am connected with mental health charities, my concern was that it might belittle mental illness or demean people with genuine problems, but it doesn't do that. It's clearly just a comedy show."
Would you make a good therapist? "I don't think I would. I've had cognitive therapy myself, but this is different. I'm a good listener but I am a bit judgemental and not confident enough in the advice I give people."
Do you ever feel it would be too insensitive or too soon to portray someone? "It's handled well because Jeremy and the team are fearless in their choices. Michelle Gomez plays Margaret Thatcher this time and it is brilliant and proper satire and very bold."
Is it nice to fly the flag for female comedy? "I love that the show is predominately female because that's still a novelty. I've been fortunate enough to be in a couple of predominantly female things recently like Up the Women so I'm delighted that I've seen it change in front of my eyes."
You starred with Peter Capaldi in The Thick of It. Would you like a cameo in Doctor Who? "I would love it. I would go to the moon and back to work with Peter because I think he is extraordinary and a really nice bloke. I've only managed to catch his first episode and I thought he was wonderful. He is a fantastic actor."
You're currently working on Channel 4 sci-fi drama Humans with William Hurt. Are you excited? "William Hurt is a legend. I had a huge crush on him in Broadcast News so I might not mention that until the end of filming otherwise it might create an awkward dynamic."
Get the What to Watch Newsletter
The latest updates, reviews and unmissable series to watch and more!