'Rejection from a parent is a bitter pill to swallow,' says Brief Encounters' Ben Bailey Smith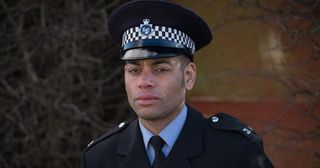 Well, that was a shocker! Monday night's Brief Encounters saw PC Johnny Daniels tell Pauline Spake that he was her son! But it doesn't sound like she'll be winning 'Mum of the Year' anytime soon, as Ben Bailey Smith reveals...
There were shocks aplenty in Monday night's Brief Encounters as local policeman, Johnny Daniels, dropped the bombshell on butcher's wife Pauline Spake that he was adopted – and she was his real mum! We get the lowdown from Ben Bailey Smith, who plays Johnny, on the story so far and what to expect from the fallout…
We discovered early on in Monday night's episode that local copper, Johnny Daniels, had come to Sheffield to find his birth mother. What was he hoping for in tracking her down? "He was looking for some kind of emotional closure. I imagine, when you're adopted, you have lots of questions. You know you've definitely got certain traits from the people that raised you but then there's these other things that make you think: 'Where do they come from?'"
Johnny eventually traced his birth mother – who turned out to be none other than butcher's wife Pauline Spake (Penelope Wilton)! But Pauline didn't exactly welcome Johnny with open arms, telling him she didn't have a son and ordering him to leave her alone. How does Johnny take Pauline's rejection? "We've all felt rejection but rejection from a parent is always one of the harder, more bitter pills to swallow. Johnny only came to Sheffield to find his mum. But now it seems his fairytale ending has blown up in his face. For a wannabe tough guy, Johnny's feeling hugely vulnerable."
In next Monday's episode, Johnny confides in on-off lover Steph (Sophie Rundle), saying he suspects the reason Pauline's turned her back on him is she doesn't want a mixed-race child. Does that resonate with you? "I was only about four years old in 1982 but I remember growing up in Kilburn, north west London in the 80s being a really tumultuous time. I do remember real tension in the air around mixed-race families and it being a bit of a scandal."
As friends gather for Dawn and Russell's wedding reception, Johnny tries talking to Pauline again – but she's not interested. Why does he persist? "Johnny just wants to know what Pauline's true feelings are. He can sense it's not that she doesn't want him at all; it's something else, that's why he's persistent."
Do you think there's any chance Johnny and Pauline might be able to bond? "Well, I think the safest thing I can say is that it would be a huge, huge shame and a disappointment for everybody if they didn't. So let's cross our fingers and hope that they find some kind of common ground."
What's it been like working with Penelope Wilton as your on-screen mother? "It's been an absolute dream come true. When I was a kid, I watched her in Ever Decreasing Circles and now she's an icon of British television and cinema and something of a British institution. As an actor, Penelope forces you to raise your game – she can tell an entire story with just an eyebrow."
The situation with Pauline isn't Johnny's only complicated relationship… it's obvious he still holds a torch for Steph. Does he think they can have a relationship? "In Steph, Johnny saw someone who's determined to be more than she's expected to be and that's very attractive. The first time he saw Steph he sensed something in her; her ballsiness really floated his boat and, when she briefly split from her husband, Terry (Karl Davies, Happy Valley), Johnny definitely thought it was more than a fling. In the same way that Johnny doesn't give up with his mum, I don't think he'll give up with Steph either."
Indeed, when Johnny hears that Steph and husband Terry (Karl Davies) have hit a rocky patch next week, he hopes he and Steph can rekindle their romance. But when Terry sees them kissing, the pair come to blows. What was it like filming the fight scene with Karl? "Men love having a good scrap, so filming the fight scene with Karl was good fun. Although, Karl's in a lot better shape that me, so I told him to go easy!"
So, unlike your on-screen characters, it sounds like you and Karl got along well during filming… "Oh, Karl and I really bonded on set – he's an absolute teddy bear, who suddenly has to play this really aggressive a***. Men weren't allowed into the Ann Summers' parties – but we got to mess around with some of the props!"
Brief Encounters continues Mondays at 9pm on ITV.
Get the latest updates, reviews and unmissable series to watch and more!
Thank you for signing up to Whattowatch. You will receive a verification email shortly.
There was a problem. Please refresh the page and try again.