Renée Zellweger on being 'diabolical' in her Netflix drama What/If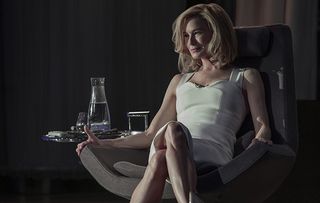 (Image credit: Adam Rose/Netflix)
Renée Zellweger turned 50 last month – so what better time for the Oscar-winner to embark on a brand-new phase of her career?
Renée Zellweger has revealed she had a great time playing a "diabolical" businesswoman in her TV series debut in new Netflix drama What/If.
The 10-parter features Renée – who made her name on the big screen with Chicago, Cold Mountain and, of course, the Bridget Jones trilogy - as venture capitalist and best-selling author Anne Montgomery, who makes a lucrative and audacious offer to cash-strapped San Francisco newlyweds Lisa and Sean (rising star Jane Levy and Glee's Blake Jenner).
However, the morally dubious proposal comes with serious strings attached.
Here, Renée Zellweger tells TV Times more about her intriguing new role…
Why did you choose What/If for your first big TV role?
Renée Zellweger: "I sat down with writer Mike Kelley [who wrote US TV drama Revenge] and after 15 minutes I knew that I wanted to work with him. He contemplates the deeper questions about the human experience."
http://www.youtube.com/watch?v=AFnI887xhBE
How would you describe the series?
RZ: "It's all about people making outrageous choices. The decisions we make every day have infinite possibilities for different outcomes. The series asks, what if you chose one thing instead of another? It's about reaching a crossroads and exploring the consequences of our choices."
What can you reveal about Anne?
RZ: "I don't think I've ever played anyone quite like Anne. She's diabolical, and she's a real fashionista with great taste and style. I loved playing her."
What do you like about her?
RZ: "She's determined and unflappable. When other people might feel that they're facing a moral dilemma, she doesn't recognise it as that. She only sees the goal. And she's a survivor at any cost."
Does she have a more human side?
RZ: "Anne thinks that empathy is a weakness and that humanity is a hindrance. But there are moments where her own humanity sneaks up on her despite years of trying to squelch any inclination she might have to connect with people."
Did you do a lot of research to play her?
RZ: "I had a couple of phone calls with some female venture capitalists in Silicon Valley. They told me what intrigues them, what excites them and what frightens them. It was fantastically interesting."
What do you hope viewers will love?
RZ: "I just hope that they find it interesting and that it's almost like a conversation with Mike Kelley. He tickles your brain and gets you thinking about things that you might not necessarily consider."
You've just filmed a biopic about Judy Garland. What was it like portraying such an important icon?
RZ: "Judy was so funny and cool. I studied a lot of archive material, especially The Judy Garland Show, which she made in the 1960s. She was so comfortable doing that TV show – she was just being herself."
What/If is available on Netflix Friday 24th May.
Main picture: Adam Rose/Netflix.
Get the What to Watch Newsletter
The latest updates, reviews and unmissable series to watch and more!
As well as writing on sport and television for What to Watch, Richard McClure has contributed art and travel features for a wide variety of publications, including the Financial Times, The Guardian, and The Observer.