REVEALED: Soap's biggest summer secrets!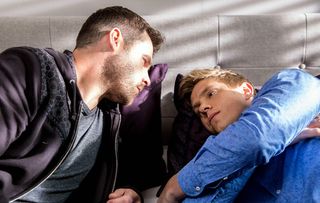 We've spoken to our soap sources to get ALL the inside information on what's coming in Corrie, Emmerdale and EastEnders
As the temperature heats up, so, too, does the action in our favourite soaps. From Weatherfield to Walford, via Emmerdale, here's our round up of the big storylines that'll keep us indoors when the sun is streaming...
CORONATION STREET
SARAH'S NIGHTMARE CONTINUES
Sarah Platt has started to realise that salon owner Nathan isn't quite the charmer that Bethany thinks he is. And, in scenes to be screened this week, she'll finally discover the horrifying truth about what he's been doing to her daughter, sparking a mission to get the teen back to the safety of No.8.
But while Sarah succeeds in getting Bethany home, how long can she keep her there?
Tina O'Brien, who plays the worried mum, revealed: "The problem for Sarah is that Bethany has been manipulated to such an extent that she refuses to believe Nathan has done anything wrong, and she's just desperate to be with him again. At the same time, there's the issue of Neil, the policeman. Sarah has no idea of his connection to Nathan, and willingly lets him into the house to talk to Bethany, not realising that he is passing on messages from Nathan, and acting as a go-between."
With Nathan determined not to let Bethany go – and Bethany equally determined to be reunited with her 'fiance' – the scene is set for another dramatic chapter in this dark and disturbing storyline, which will continue throughout the summer and into early autumn. Will Bethany flee from her family to be with the man she thinks she loves?
NICK'S QUICKSAND NIGHTMARE
It's a case of 'ex on the beach' for Leanne when she heads to the seaside with fiancé Nick, babyfather Steve and former fella Peter, along with Peter's new lover, her sister Toyah. But how many of the sun-seeking party will return? When Nick walks off after a row with the other men, he finds himself sucked into some quicksand and fighting for his life.
We know that actor Ben Price is leaving the soap, so is Nick destined for a grisly end? "It's a very deserted beach," revealed our Corrie source, "and it's not looking good for Nick as he screams for help."
Of course, if Nick survives, then there must be another reason behind his Weatherfield exit. With his and Leanne's relationship on rocky ground, could he call time on their engagement and walk away from the cobbles?
KEN'S ATTACKER REVEALED!
It has been the Corrie storyline of the spring – and, as summer approaches, the mystery of who pushed Ken Barlow down the stairs will finally be solved.
The truth is revealed when the pensioner remembers an argument he had on that near-fatal night. Ken then confronts the guilty party – who is, as police suspect, a family member.
But though the case is cracked, there are still questions to be answered. Revealed actor William Roache: "Ken said in hospital that although it was painful for him to think that a family member was responsible, he wanted to know sooner rather than later, so he could start to build bridges." With Ken keen to reunite his fractured family, will he try to cover up his attacker's crime?
DAVID'S DISCOVERY
You can never keeps secrets for very long in Corrie, so it's with a certain inevitability that David Platt learns Shona is the mother of Kylie's killer, Clayton.
We've been sworn to secrecy about how David happens on the truth – but pictures have recently emerged of the crimper finding Shona at Kylie's grave. Will he put two and two together? Or will guilt-ridden Shona confess? One thing's for sure, there'll be fireworks. "Knowing David, he's not one to take things lightly!" said Julia Goulding, who plays Shona.
David memorably made a pass at the cafe worker a few weeks ago. With Shona's history out in the open, will this put the mockers on a potential romance? Added Julia: 'Shona is never going to stop being Clayton's mum, so I think that if she and David ever got together, it could be of the most complicated relationships the street has ever seen…"
AIDAN UNDER PRESSURE
Eva Price is determined to become Mrs Aidan Connor – even if her boyfriend looks like he'd rather extract his own wisdom teeth than whisk her up the aisle. And, as we move into summer, she pushes forward with her bid to get wed, even engineering a situation where Aidan's in the Rovers as a jeweller shows up to show Jenny some wedding bands.
Of course, what Eva doesn't know is that her greedy boyfriend is enjoying a bit on the side, courtesy of Maria Connor. As Eva piles on the pressure, will the factory boss crack and tell her that his heart lies elsewhere? And how will Aidan react when a street resident captures him and Maria having a secret smooch?
ALSO COMING UP IN WEATHERFIELD:
Phelan discovers he has a daughter, Nicola. Will this prompt the dodgy builder to change his ways?
Denise Osbourne returns. What does this mean for Ken and Daniel?
Billy's ex Drew dies. Will Billy change his mind and agree to take on godaughter Summer?
Johnny gets a diagnosis, following tests for Parkinson's and MS. Will his worst fears be confirmed?
Mary's son, Jude, moves to Weatherfield with his family.
EMMERDALE
PIERCE RETURNS
There's more trauma ahead for Rhona as she tries to rebuild her life after being raped by Pierce. Not only is her violent husband set to return to the village, but he'll continue with his lies and manipulation.
Emmerdale producer Iain McLeod said: "Rhona will see through the course of action that she started when she reported the rape. But Pierce is a controlling man, and the tragic reality is that those men don't stop. So we felt a responsibility to show his behaviour continuing, albeit in a slightly different form."
Ultimately though, Rhona will get some form of justice. Added Iain: "The outcome will prove vital redemption for Rhona. The worst thing we could do would be to dissuade people at home who have had a similar experience from coming forward."
ROBRON REUNITED
It's crisis point for Robron when Robert confesses that he slept with his ex, Rebecca, while Aaron was in prison, and got her pregnant. But fans of the couple needn't reach for the tissues just yet, because their relationship will be back on track before we know it. What's more, they'll seal the deal with a wedding.
No date has been set for the nuptials, but safe to say it won't be happening in the garage, where the pair got unofficially hitched in February. Said show boss Iain: "We'll definitely be getting an official church / register office / Vegas romantic wedding that will be heart-warming, joyous and everything everyone wants it to be."
CURTAINS FOR EMMA?
It seems Emma Barton won't be getting off-scot free after pushing fiance James to his death. Not only has young Arthur Thomas now seen the footage of Emma trying to confuse his dad, Ashley – who witnessed the couple arguing on the motorway bridge – but Emmerdale bosses have confirmed that Gillian Kearney, who plays the nutty nurse, is leaving the soap, fuelling rumours that Emma will be found out and killed off.
"One of the things I was conscious of when Ashley died was that we didn't have a situation where Charlotte Bellamy, who plays Laurel, was drumming her fingers," explained Iain. "There will be some fun with Lydia moving into the Thomas house, but there is another story that's tied into the resurfacing of the Ashley / Emma video..."
PETE THE CHEAT!
Leyla Harding may think she's found 'the one' in Pete Barton, but he clearly doesn't feel the same, as he's set to spice up his summer with an affair! The woman's identity is under wraps, but we're pretty sure that Pearl and Brenda are out of the running.
The storyline is set to be a source of comedy, as the farmer turned cabbie has to cope with the demands of two lovers. Let's hope he starts taking vitamins – because he's going to need all the strength he can muster…
DREAM BOAT DINGLE
The rising temperature won't be the only thing forcing folk to take cold showers this summer. We're told that a hunk is on his way to the village, guaranteed to send viewers into a sweat-fuelled frenzy.
"There's a big story that will be rooted in the Dingle family that will require a sexy, brooding, male lead - but I can't say much more," teased Iain. "It will be kicking off around September time..."
ALSO COMING UP IN EMMERDALE
It's make or break for Marlon and Carly
Ross and Finn hit on a potential money-making scheme
Belle is increasingly drawn to Lachlan
EASTENDERS
THE TAYLORS ARE COMING!
Blimey, we wouldn't want to bump into this lot in a dark alley! This family of five are the Taylors, and the residents of Walford are set for a rude awakening when they move to the square in the coming weeks.
Single mum Karen (Lorraine Stanley) is the head of the clan. She's joined by eldest son Keanu (Danny Walters), daughter Bernadette (Clair Norris) and younger sons Riley and Chatham (real life brothers Tom and Alfie Jacobs), both of whom have learning difficulties. Oh, and we mustn't forget the family pets – Bronson the dog, and Rooney, the bearded dragon. Bet Dot will be delighted!
EastEnders producer Sean O'Connor said: "I'm hugely excited at the arrival of Karen and her family. They're noisy, brash and not-to-be-messed-with. Karen is a 20-a-day lioness, bringing up her kids with no support, no money and a very loud mouth. But though they may lack cash, the Taylors have love and warmth in spades.
He added: "This summer is going to be explosive as the Taylors settle in Walford. The Square will never be quite the same again…"
CARTER MARRIAGE IN CRISIS!
There was once a time when Mick and Linda looked unbreakable, but in recent months, both have embarked on risky behaviour that could cause serious damage to their relationship. Mick, you'll remember, kissed Whitney in the wake of the bus crash – a moment witnessed by Denise Fox – while, more recently, Linda colluded with Shirley to sell the Vic freehold behind her husband's back.
Linda's in Watford with mum Elaine at the moment, but we know that she'll be returning. As Mick struggles with the changes to the pub, can he forgive his beloved 'L' for her betrayal? And how will Linda react if Denise tells her what she saw in Walford General?
STEVEN OUT OF CONTROL
Steven Beale looked like a reformed character when he returned to Walford from New Zealand last year. But his dark side has come to the fore since girlfriend Lauren landed her dream job – he's even resorted to sabotaging condoms in the hope that she'll get pregnant and be forced to give up her career.
As Lauren becomes increasingly attracted to boss Josh – and Steven starts to suspect that her late nights at the office aren't entirely work-related – just how far will he go to get what he wants?
"Let's not forget that Steven once shot Jane Beale," said our EastEnders source. "Has this leopard really changed its spots?"
ROBBIE RETURNS!
Two years after Robbie Jackson was last in Walford, the soap favourite, played by Dean Gaffney, is coming back for a fresh stint.
"What we'll see now is a more mature Robbie," revealed an EastEnders source. "He is a father to son Sami, so he has responsibilities. But that warm, fun side of him is still very much there, and no doubt he'll be providing some comical moments."
Robbie revealed on his last visit that he had split from partner Nita. Could he find new romance in the square? We reckon he and Abi could be a perfect match!
CAN PATRICK SAVE DENISE?
It's exam time for Denise Fox soon, but her preparation for the big day has been far from ideal. With no cash to buy food, the struggling student is running on empty, and collapses soon afterwards.
But help could be on its way. We're told that Dee's surrogate 'dad' Patrick Trueman will be back in Walford imminently. Not much escapes old Paddy – so will he discover the truth about Dee's dire finances and provide the help she needs?
ALSO COMING UP IN WALFORD
The plot thickens as newcomer Ted Murray (Christopher Timothy) harbours a secret from his past
Jack and Charlie's battle for Matthew reaches a climax. Which man will be left holding the baby?
Get the latest updates, reviews and unmissable series to watch and more!
Thank you for signing up to Whattowatch. You will receive a verification email shortly.
There was a problem. Please refresh the page and try again.