Richard Coyle: 'The Collection is about a fashion house on the cusp of super stardom'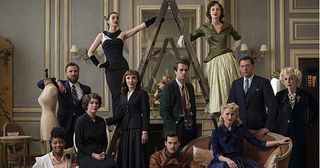 (Image credit: Copyright: Lookout Point 2016. P)
The cast of Amazon Video period drama The Collection explain why fashion was so important in helping France recover from the horrors of the Second World War
TV & Satellite Week is standing on a run-down French street with a café and a grocery store at one end, a cinema screening the latest Vivien Leigh movie and tatty posters advertising Dubonnet and a new nightclub.
It's hard to believe we are actually at an old car factory in Swansea that has been meticulously transformed into post-war France.
We are on location for Amazon Prime's sumptuous new period drama The Collection (available to stream now), created by Desperate Housewives and Pretty Little Liars' producer Oliver Goldstick.
Set in Paris in 1947, it follows the family-run Sabine fashion house, headed by uncompromising couturier Paul Sabine (Richard Coyle), who is tasked with restoring Paris' status as the world's fashion capital in order to help France get back on its feet following the Nazi occupation during the Second World War.
What is The Collection? Richard: "It is the story of a fashion house on the cusp of international super stardom and the internal tensions, dynamics and politics that define it."
Who is Paul? Richard: "Paul is the face of the brand; he is a fantastic visionary with drive and ferocious ambition. He is a businessman, a politician, a rogue, a gangster and a romantic. He is far ahead of his time and appreciates that the future needs a new shape and he is prepared to be ruthless and monstrous if he has to be to achieve that.
"Fashion had been the lifeblood of the French economy and he wants to put Paris back on the map."
What is there to know about Claude? Tom: "Claude is a tortured genius who is not prepared to live by the rules so he gets up to all sorts of stuff that could potentially bring down the empire."
What does he think at the beginning? Tom: "At the start he thinks he can live without the glory of being recognised publicly for his work, but as he watches Paul being lauded, maybe he wants to be seen…"
Why do the brothers clash? Tom: "The brothers clash because Claude has utter contempt for the people in this world whereas Paul sees that they need them. But they love each other and have a bond that overrides everything.
"They also have the fashion label's interests at heart first and foremost because Paris needs to be seen as a symbol of success like a phoenix rising from the ashes."
Darkness lingers over the Sabines. Can you explain why? Richard: "The war is still present in all of these people's lives; it shattered the world that they knew. Claude was with the Resistance, but to some extent they all made terrible compromises in order to survive."
Is there anything Paul is trying to cover up? Richard: "Paul has a lot of secrets and he is trying to plough a brand new furrow while desperately making sure that no skeletons come out of the cupboard behind him. There is a great beauty and style to it all, but there is also an ugliness because of what these dresses are covering up."
What are the Sabine collection costumes like? Mamie: "They are very architectural and ultra-feminine. The scaffolding alone that comes with the undergarments is very different."
What do you have to wear? Mamie: "I've got a garter and torpedo bras and they do change your stature and require you to have a grace, stillness and elegance because you can't really move so you seem very poised. I enjoy it, but I really enjoy taking it off at the end of the day!"
Watch a trailer for The Collection:
https://youtu.be/hsmJ5-LgiZ0
Get the What to Watch Newsletter
The latest updates, reviews and unmissable series to watch and more!
Caren has been a journalist specializing in TV for almost two decades and is a Senior Features Writer for TV Times, TV & Satellite Week and What's On TV magazines and she also writes for What to Watch.
Over the years, she has spent many a day in a muddy field or an on-set catering bus chatting to numerous stars on location including the likes of Olivia Colman, David Tennant, Suranne Jones, Jamie Dornan, Dame Judi Dench and Sir Derek Jacobi as well as Hollywood actors such as Glenn Close and Kiefer Sutherland.
Caren will happily sit down and watch any kind of telly (well, maybe not sci-fi!), but she particularly loves period dramas like Call the Midwife, Downton Abbey and The Crown and she's also a big fan of juicy crime thrillers from Line of Duty to Poirot.
In her spare time, Caren enjoys going to the cinema and theatre or curling up with a good book.