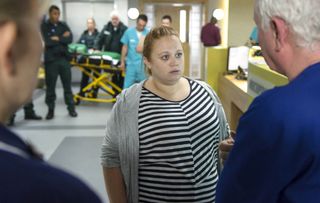 (Image credit: BBC / Alistair Heap)
Young mother Robyn is pushed to breaking point in Casualty and takes it out on Charlie Fairhead… Will she abandon her baby too?
Robyn's nightmare continues this week as she tries to care for her daughter in neonatal intensive care. Baby Charlotte has been named after Charlie Fairhead, so what drives Robyn to get aggressive with the aging nurse?
The answer, in a word, is David! As soon as Robyn hears David's been checking up on Charlotte, the exhausted mum loses her temper and attempts to confront her mentally ill friend – even if that means going through Charlie.
Then Louise delivers shocking news – Charlotte needs emergency surgery. But with only a 50-50 percent chance of survival Robyn considers walking away…
Robyn attempts to be optimistic in the face of terrifying odds about the chance of baby Charlotte's survival.
When reality comes crashing down, exhausted and emotional Robyn begins to question how she'll cope.
Experienced neonatal nurse, Jude (Michelle Holmes) is on hand to help Robyn, but the frustrated mum thinks the medical staff need to remember she's a nurse too.
But soon, Robyn has no choice but to trust the medics when Dr Barling (Simon Shepherd) reveals Charlotte's developed an infection…
When Jude reveals David's been asking after Charlotte, infuriated Robyn reaches breaking point and she's determined to confront him!
Realising David's in Holby Hospital under psychiatric care, she causes a scene in the ED and attempts to confront her former best friend.
Charlie tries to stop desperate Robyn, but her anger takes over and she gets uncharacteristically aggressive…
Charlie hits the decks. Now is not the time for Duffy to reveal she's invited Robyn to live with them…
Charlotte's condition takes a turn for the worse and she needs surgery. Robyn reaches breaking point and decides to walk away. Can Max stop his stepsister from abandoning her baby?
Get the latest updates, reviews and unmissable series to watch and more!
Thank you for signing up to Whattowatch. You will receive a verification email shortly.
There was a problem. Please refresh the page and try again.