Emmerdale's Ryan Hawley: The fact people care so much about 'Robron' is a compliment!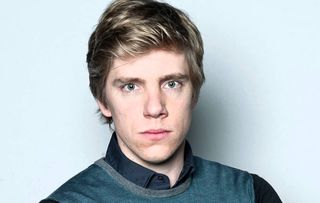 Ryan Hawley, who plays Robert Sugden, explains it's important to have characters who create conflict and reveals he enjoys fans' passion for Robron
Now that Robert Sugden has been royally dumped by Aaron, the businessman has gone back to bad ways and will soon be seen drugging Lawrence White, as part of his plot to take over Emmerdale's Home Farm.
Little does he realise his actions are set to have devastating consequences, as Lawrence takes to the wheel and careers into the path of several villagers at the Home Farm Zombie Run – including that of Robert's own sister, Victoria.
Ryan Hawley talks about his character's return to the dark side…
Can you explain Robert's motivation for being a bad guy again? "I guess he was a more morally rounded person with Aaron, and without him, he is turning back into the manipulative, meddling Robert of old. He sees an opportunity at Home Farm that will help him make his life better and get him material things. Robert wants to be powerful; he's not interested in living a mediocre life. Aaron filled a void and without him, he wants to be the guy who lives in the big house on the hill."
Lawrence has just had a brain aneurysm – is Robert not worried that drugging him could finish him off? "He is, but there's a long-standing rivalry between Robert and Lawrence. There is a resentment for him. Given how Robert didn't have a great relationship with his father, maybe he sees Lawrence as someone he'd like to have power over."
Does he consider the wider consequences of drugging him, and that he could be putting other people in danger? "I don't think he's particularly thought about that. He's just thought about getting Lawrence out of the way, so he can get the power he wants from the Whites. Sometimes, he acts first and thinks later, like he did when he slept with Rebecca. That kind of impulsiveness is certainly consistent with Robert's character. But although Robert is morally questionable, he does care for people like Victoria, so he'll feel terrible if she gets hurt."
Is it fun playing the dark and devious Robert again? "It is, and it's important for a show like this that we have people that create conflict - and that's certainly one of the things that Robert does when he is immoral. He rubs people up the wrong way, and he conspires behind people's backs. He is quite a slithery kind of guy, and him being with Aaron was good news for everyone in the village because it meant they didn't have to look over their shoulder."
How does Robert feel about the split with Aaron? Does he hope they'll reunite? "I think he might always go on hoping, but Aaron seems very sure of himself when he says that it's over. This is probably the most hurt that Robert has been by a relationship. He loves Aaron very much, and regrets the fact that his actions ruined things."
How do you feel about the fans' obsession with #Robron? "For me, it's quite something that people care so much about this fictional relationship that we've all invested heavily in. The writers, myself and Danny (Miller) have committed to it and tried to make the relationship as believable as possible. It seems that people are really enjoying it and they feel strongly and passionate about them as a couple. I think the only real way to look at it is to see it as a compliment."
Will they reunite? "At the moment, Aaron is off doing his own thing. He is doing his boxing and not really paying much attention to Robert. Aaron has said he wants space, so Robert has to let him have it. But he hopes that Aaron will change his mind at some point. We'll just have to wait and see…"
Get the latest updates, reviews and unmissable series to watch and more!
Alison Slade has over 20 years of experience as a TV journalist and has spent the vast majority of that time as Soap Editor of TV Times magazine.
She is passionate about the ability of soaps to change the world by presenting important, issue-based stories about real people in a relatable way.
There are few soap actors that she hasn't interviewed over the years, and her expertise in the genre means she has been called upon as a judge numerous times for The British Soap Awards and the BAFTA TV Awards.
When she is not writing about soaps, watching soaps, or interviewing people who are in soaps, she loves going to the theatre, taking a long walk or pottering about at home, obsessing over Farrow and Ball paint.
Thank you for signing up to Whattowatch. You will receive a verification email shortly.
There was a problem. Please refresh the page and try again.