Love in the Countryside host Sara Cox: Meet gorgeous George the vet!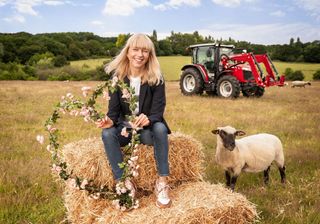 (Image credit: BBC/Boundless/Pete Dadds)
Sara's playing cupid again as Love in the Countryside returns to BBC2
Telly isn't short of dating shows, but Love in the Countryside struck a real chord with viewers when it started last year.
Now back for a second series, the programme sees Sara Cox hoping to find lasting love for country-dwelling singletons, by setting them up on speed dates with new people from outside their social circle. A few potential suitors will then get to visit the farm, before we see if real romance is about to blossom.
Here Sara Cox, who grew up on her dad's farm near Bolton, reveals what's in store for series two of Love in the Countryside and why her city life sometimes doesn't mix with her love of the great outdoors…
Tell us about this year's singletons…
Sara Cox: "We've got a really lovely bunch of people on the show this series. There's George the gorgeous vet from Wales (below) who has moved to a new area where everyone is married off. Then there's Victoria, the equine dentist who often spends time with her entire head in a horse's mouth, and Martin the dairy farmer – now that his new milk parlour has been built he's ready to look for love! We've also got an incredible woman called Katie who is a formidable sheepdog trainer. She hasn't had a date in 10 years and her daughter's about to go to uni – she wants her mum to find someone nice to share her life with because she's worried she will become that eccentric woman on the hill with 40 dogs!"
MORE: Check out the latest EastEnders spoilers
How does it feel watching their speed dates?
SC: "The chat is very different than on other dates – they end up discussing things like sheep breeds! I think they're very brave – it's a big ask for them to sit there trying to block out the cameras. I try to help them relax as much as possible but there's naturally slightly awkward moments. We're not trying to stitch them up though, it's a really warm, friendly show and you can't help rooting for them. I'm quite soppy really, so I'm enjoying trying to find them real love."
Are you a romantic?
SC: "Well I can't help hoping there will be a wedding and I'll be invited, then maybe they'll name their children after me… I get overexcited! It genuinely can be quite lonely in rural areas and it's hard to find the right person to be with, especially if you're stuck on a farm milking every morning and evening, it's a big commitment. They need someone to share their life with – the fun times and the tough times when there's sideways rain. They're looking for a proper partner."
You grew up in the countryside, have you enjoyed getting out of London for this job?
SC: "It's good, I'm watching a lot of box sets on my iPad as I pootle around the country, and I'm getting to know some of the train staff! I definitely have rose-tinted glasses about the countryside. I do crave it but I did marry a nice man from North West London who is not one for popping on a welly! If I won the Euromillions I'd get a chopper and fly to my little farm just out of town – I do sometimes have a google of what farms are for sale just outside the commuter belt, in St Albans and I have now got a spectacular set of thermals for filming when it's freezing up in the fells. The other day I got back from Penrith, went straight to Radio 2 and got caught by my boss in the ladies pulling all my thermals off!"
MORE: Shakespeare and Hathaway and Father Brown to get new series
Are your dogs, Dolly and Beano, going to make an appearance on this show?
SC: "No they come on my ITV weekend show with me, but they wouldn't be much use on a farm – I think they'd probably be trodden into the mud by various livestock!"
Love in the Countryside series two starts on BBC2 next Tuesday at 9pm.
Get the What to Watch Newsletter
The latest updates, reviews and unmissable series to watch and more!