Sherlock finale leaked online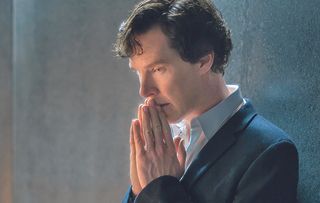 (Image credit: BBC/Hartswood Films/Laurence Cen)
The final in the series is due to be aired tonight at 9pm, but a Russian version has been leaked online
A Russian version of the final episode in series three of Sherlock, which was due to be aired on BBC One tonight, has been leaked online illegally.
But creators of the show have urged fans to not watch the version, which was uploaded and can now be viewed on the Internet. They took to Twitter yesterday on Sherlock's official Twitter account to say: 'We are aware that #Sherlock episode 3 has been uploaded illegally online. If you come across it, please do not share it. #KeepMeSpolierFree'
Sherlock producer Sue Vertue also put out a warning to fans, tweeting: "Russian version of #Sherlock TFP has been illegally uploaded. Please don't share it. You've done so well keeping it spoiler free. Nearly there."
This will be the final episode in the series, titled 'The Final Problem'. There has been much speculation around whether this will be the final ever episode, but creators Mark Gatiss and Steven Moffat revealed that another series 'was possible.'
However back in December Benedict Cumberbatch, who plays Sherlock hinted to the Daily Mail Weekend that this may be his last series: "I'm grateful that I and my family have our health and that I'm still doing the work I love, so it's a golden moment.
"Of course, I now have extra responsibilities and I do have to make certain decisions about the future because there are more people in my life who are important to me. This new series goes to a place where it will be hard to follow on immediately."
Sarah is a freelance writer and regularly writes for publications including Womanandhome.com, Independent, BBC and What to Watch. She mainly writes about health, fitness, TV, and travel. Sarah loves gritty crime dramas, sitcoms, and reality shows, while she always amazes her friends at how quickly she can binge-watch the latest on-trend Netflix show.
Get the latest updates, reviews and unmissable series to watch and more!
Thank you for signing up to Whattowatch. You will receive a verification email shortly.
There was a problem. Please refresh the page and try again.