Sherlock's Lara: 'I found the nudity empowering'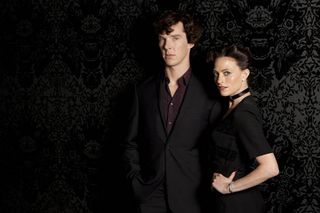 The actress who played a dominatrix in Sherlock has described her role as 'empowering' and said she chose to get 'completely naked'. The BBC received more than 100 complaints about the racy footage of actress Lara Pulver, who played the character Irene Adler in the New Year's Day episode A Scandal in Belgravia. She appeared nude in front of Benedict Cumberbatch (Sherlock) and Martin Freeman (Dr John Watson) in the pre-watershed BBC One scenes, watched by more than 10 million viewers. Lara told The Radio Times: "They give you a self-adhesive bra that sticks to you and ... imagine a sanitary towel made of tan Lycra, but with wire through it so it cups the underneath of you. And Louboutin shoes. "Paul McGuigan (the director) very sweetly said to me, 'OK, the choice is we spend hours shooting it to avoid seeing straps or we take all that off and shoot it quickly.' "I thought I couldn't put myself through being there all day, practically naked anyway, so I might as well get completely naked and get it done in a few hours." Lara added: "Martin said a few things, but they were harmless. They were both supportive and by the end of it I wouldn't move on to the next line until Benedict had stared at my boobs!" The actress said she bore similarities to her TV alter-ego, who flirted with Holmes while wearing only diamond earrings, lipstick and heels, and went on to strike him across the face with a riding crop while perched suggestively on a chair. "There are huge elements of our characters that are us. But I don't go around whipping people. And I'm not a lesbian," she told the magazine.
Get the latest updates, reviews and unmissable series to watch and more!
Thank you for signing up to Whattowatch. You will receive a verification email shortly.
There was a problem. Please refresh the page and try again.