Benidorm star Sherrie Hewson: 'I was so scared to face my cheating ex-husband at my daughter's wedding that I was sick'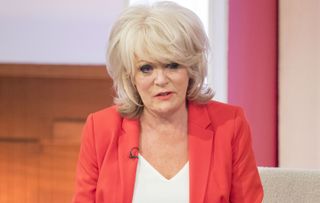 The former Loose Women panellist has revealed her heartache on her daughter's wedding day after she came face-to-face with her ex-husband for the first time in 14 years.
Former Loose Women presenter Sherrie Hewson has opened up about her anxiety over her daughter Keeley's wedding day, revealing that it was the first time she'd seen her ex-husband Ken Boyd in 14 years.
"I was sick that morning, I was so scared about facing Ken," Sherrie told the Sunday Mirror. "Walking Keeley down the aisle was supposed to be the most joyous moment of my life. But the Ghost of Christmas Past had landed by my side.
"I thought I'd put everything to bed long ago – yet I was completely wrong-footed as 20 years of history flooded back."
The wedding last Saturday was the first time the 66-year-old Benidorm star had seen ex-husband since 2002.
The couple met in 1976 and wed six years later. When Keeley was born in 1984, the picture seemed complete.
But then Sherrie found out former DJ Ken had been unfaithful to her. The marriage quickly turned toxic, with Sherrie staying only for the sake of their daughter.
The pair finally separated in 2001, and Sherrie says her time on the Loose Women panel helped her come to terms with her marriage breakdown.
When 31-year-old Keeley announced she wanted to marry her long term partner, Sherrie, who announced she was quitting Loose Women in August, said she knew she would finally have to face her ex-husband.
"I felt uneasy and nervous," Sherrie said. "I sat next to Ken after we walked Keeley down the aisle, which felt very strange. We had to say 'We do' together when they asked who gives this bride away.
"Then I had a glass of wine at the wedding breakfast, which calmed me down a bit, but my head was racing. It was full of every memory that had gone between us."
During Ken's wedding speech, Sherrie said he included a line which made her wonder whether he regretted his infidelity.
"He said, 'My advice to you Keeley is, you think the grass is always greener on the other side – and it isn't'," said Sherrie.
"I did wonder whether that little line was about us."
Although facing her ex-husband was a traumatic experience, Sherrie says the meeting finally encouraged her to find forgiveness and move on from their dark past.
Sherrie said: "I got my strength back overnight. Next day Ken joined us for a family lunch and the ice started to break.
"We began to reminisce about our time together. He said things like, 'Do you remember that car we bought?' I started to see him in another light.
"I've shut the door and forgiven Ken. I've moved on from any kind of regrets or recriminations. It all just fell away, bit by bit, over the three days."
And Sherrie said she finally feels ready for a new relationship.
"I'd love a companion," she said. "No one wants to be lonely. I hope Ken has found happiness too, I don't know if he has someone. But most of all, yes – I'd love to find happiness for myself."
Get the latest updates, reviews and unmissable series to watch and more!
Thank you for signing up to Whattowatch. You will receive a verification email shortly.
There was a problem. Please refresh the page and try again.