Si King: 'The new Hairy Bikers series is a licence to make egg puns!'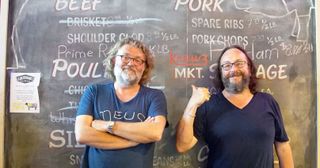 (Image credit: BBC/Rosa Brough)
The Hairy Bikers Simon King and Dave Myers hop on their bikes for a new chicken and egg themed culinary adventure…
Did you know chicken was rarely eaten in the UK until a young Queen Victoria was gifted plump hens that left scrawny British breeds in the shade?
The Hairy Bikers (opens in new tab) Simon King and Dave Myers hop on their bikes for a new culinary adventure. Taking in Britain, France, USA and Morocco, they unearth egg-cellent chicken facts while trying out poultry-inspired recipes in a six-part series packed with fowl puns!
Si and Dave even promise to answer the age-old question; what came first, the chicken or the egg?... using scientific methods! We caught up with Si King, who told us more…
Can you give us a nugget-sized explanation of your new show? "We look at the rise and rise of chicken. We celebrate chicken and eggs in typical Hairy Biker style, with a laugh and a giggle, and some absolutely fantastic food."
Did you show restraint with chicken and egg puns? "Don't be ridiculous! Of course we didn't. It was an absolute licence to bash viewers over the head with chicken puns. You know what we're like, we don't take any prisoners on that sort of thing. We leave it to the edit to tone it down!"
And there's dressing up too? "It's probably one of the best series we've done. It was really fun to make. There's a huge comedic element to it. You know Dave and I love getting dressed up in chicken suits and things!"
Are you're back on your bikes? "Not only are we on motorcycles but also we've had all sorts of different modes of transport. But, like we always do, among the complete chaos what we put on the plate is fantastic. It's the Tommy Cooper School of cookery!"
Tell us about the food you cooked along the way… "We made all sorts of great food that's dead easy and you'll want to cook. Buffalo wings, Southern friend chicken, pancakes, roast chicken with all the trimmings, chocolate soufflés, scotch eggs. Dave and I don't want to cook anything on the telly that you can't cook at home, because what's the point in that? We're going to whet your whistle that's for sure!"
Why did you want to do a series about chicken and eggs? "Everybody eats chicken and eggs. Chicken is probably the most egalitarian meat we have so we decided to have a look. It's an idea we had about eight years ago and it's been a slow cook. It's been a really interesting series because it's an intrinsic part of the world's diet. Think about all the dishes you make with chickens and eggs. In fact, it's soon to be the most eaten meat on the planet. Originally that was goat but that's changing."
You also discovered far-reaching historical, social and economical implications? "It's fascinating, and a massive topic to take on. Through history chickens have been an incredibly important part of people's diets. In the States, we explore the connection between slavery and chicken. In the UK, Queen Victoria popularised the eating of chicken - it was one of her favourite meats and became held in high esteem... And that's only chicken, then there's the egg!"
Chicken and eggs have some bad press in the UK over the years… "People tell you the horror stories about chicken, but the standards in the UK are actually quite good. It's not the same around the rest of the world."
Do you ever worry about getting sick on your food travels? "Dave and I will eat street food all day, every day. Street food, if you think about it, generations of people eat from the same stall and never worry about getting dickey tums. If it wasn't good they wouldn't be in business. With bugs, you either get them or you don't. Honestly, we never give it a second thought. Dave and I do have cast iron constitutions!"
We have to ask – chicken or egg, what came first? "I think chicken! How could an egg have come first if you don't have the chicken, it's just not possible. We tell you what did actually come first in the series. The age long question is answered!"
Is there more dressing up in this series compared to others? "Short answer – yes! There's one scene you've got to look out for in the States. It's in a diner, and that's all I'm saying. It was all Dave, I'm quite shy like that and he's not. But I go along with it and love it when I do. It's the height of silliness. That's what is great about having a mate like Dave! He knows I'll always say yes... That hasn't changed in all the years we've known each other."
The Hairy Bikers' Chicken and Egg lays its first episode on Tuesday September 6 at 8pm on BBC2.
With twenty years of experience as an entertainment journalist, Elaine writes for What's on TV, TV Times, TV & Satellite Week and (opens in new tab)www.whattowatch.com (opens in new tab) covering a variety of programs from gardening and wildlife to documentaries and drama.
As well as active involvement in the WTW family's social media accounts, she has been known to get chatty on the red carpet and wander into the odd podcast.
After a day of previewing TV, writing about TV and interviewing TV stars, Elaine likes nothing than to relax… by watching TV.
Get the latest updates, reviews and unmissable series to watch and more!
Thank you for signing up to Whattowatch. You will receive a verification email shortly.
There was a problem. Please refresh the page and try again.