Sian Gibson on Car Share future: 'John and Kayleigh may be back in the car again... one day!'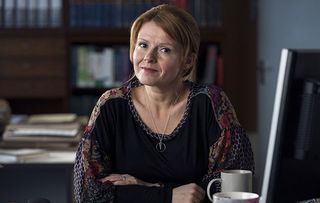 (Image credit: Sky UK - Photographer: Alison Pa)
Best known for playing Kayleigh in Peter Kay's Car Share, Sian Gibson is making 'em laugh once again alongside Romesh Ranganathan in Sky1's The Reluctant Landlord. Sian reveals all about her new sitcom - and why she could never run her own boozer...
Sian Gibson on her new sitcom The Reluctant Landlord and life after Car Share…
Having appeared in Peter Kay's Phoenix Nights back in 2001, Sian Gibson struck gold when she teamed up with Peter again to play promotions rep Kayleigh alongside his assistant manager John in the BBC sitcom Car Share.
Fans were devastated when, after two series and two specials, Car Share came to the end of road. But that's certainly not the last we've seen of Sian who, this week, teams up with a new comedy partner, Romesh Ranganathan, for his new semi-autobiographical sitcom, The Reluctant Landlord.
The six-part series centres on Romesh, who's left running the local pub after his mischievous late father left it to him in his will. While Romesh is desperate to get rid of the pub and back to normal life, his wife Natasha, played by Sian, does everything she can to ensure that he keeps his feet behind the bar.
Here, TV Times chats to Sian, 42, about her new role and why she's sticking with sitcoms…
What can you tell us about Natasha?
"Natasha is an ambitious junior lawyer, who's got two children… and she kinda mothers Romesh's character, too! She's not landlady of the pub as such but she wants Romesh to make a go of the business and she gets really frustrated by the fact he's quite lazy, so she's always trying to encourage him to do things. She doesn't want the pub to get run down and is keen to keep it going."
Have you ever worked in a bar or pub yourself?
"I've worked in hundreds of bars! I'm so clumsy and it's all been coming back to me while filming this that I'm constantly smashing things and breaking the set wherever I go. So I'm thinking: 'This is why it never worked out for me as a barmaid!' I was really quite bad at it."
What's it been like working with Romesh?
"I've always thought he was very funny but he seems very cool and, when we filmed the pilot for this last year, I thought: 'Ooh, will we get on?' But he's been wonderful to work with. He's got a very dry sense of humour, he's naturally funny, such a good actor and just a really lovely guy… but I'm sure that's not the image he's trying to portray!"
Could you ever have predicted Car Share would have become the hit that it was?
"No, not at all. I'll confess, once Peter and I had written and filmed it and when I first went around to Peter's house to watch it, I went home and cried. I was saying to my husband: 'Oh no, this is terrible' because the comedy is just about the two of us, as John and Kayleigh, in the car. So I initially felt really exposed. Peter will tell you that he too had no idea it would be so well received - so we find it weird that people latched onto it and we're really grateful."
Are you sad it's come to an end?
"It doesn't make me sad because, as much as I love it, I love it SO much that I don't want to do that third series and ruin what we've done. I wouldn't want to drag it out when we've got nothing else to say. Peter and I have got ideas for other things but there are no plans for more Car Share at the moment. Who knows, though, in 10 years' time, John and Kayleigh, might be back in the car again."
Before Car Share, you'd practically given up on acting. Do you ever pinch yourself over how well your career is going now?
"Yes, it is weird that it's kinda come around again for me when I'd given up on everything. I don't know if I could take myself seriously enough to do a serious drama, so I'm happy with the way things are going for me comedy-wise but, unlike Romesh, I could never do stand-up! I'm just enjoying it while it lasts because I know what this industry is like. It can be quite fickle; you're in favour one minute and out of favour the next. As the saying goes, I'm just making hay while the sun shines!"
The Reluctant Landlord starts on Tuesday 30th October at 10pm on Sky One
Get the latest updates, reviews and unmissable series to watch and more!
Thank you for signing up to Whattowatch. You will receive a verification email shortly.
There was a problem. Please refresh the page and try again.