Sir Ken Dodd tickled pink as he leaves hospital after six-week stint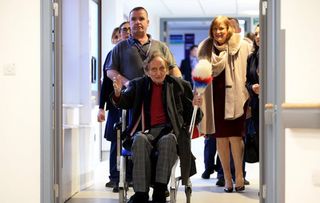 Brandishing a tickling stick, the 90-year-old comedian vowed to carry on with the gags as he left the Liverpool Heart and Chest Hospital
Sir Ken Dodd has vowed to carry on his comedy career after being discharged from hospital following a chest infection.
The 90-year-old comedian was greeted by his Diddymen, played by children from Liverpool Theatre School, as he made his way home to Knotty Ash from the Liverpool Heart and Chest Hospital on Tuesday.
Asked what he would do after leaving hospital, Sir Ken said: "I'm going to teach my legs how to work again, they've forgotten you know, and once I've recovered myself I'll get back to doing the job, which is the only job I've ever had.
"While I was in here I wrote some new jokes, so it should be alright."
Sir Ken, who spent more than six weeks in hospital, recorded a video message, posted on the hospital's Twitter account, thanking staff.
Speaking as he left the hospital, he said said: "Thanks to the NHS and thanks to all the people here, all the nurses.
"The porridge here is remarkable."
He added: "The doctors have punctured me in so many different places that I will have to get the AA in."
The comedian, who left the hospital in a wheelchair, said he had had a lot of time to think while being treated.
"It's been quite an experience I must admit, not one I would recommend to anybody," he said.
Sir Ken commented "what a beautiful day" as he got into his Rolls-Royce to return home.
He was admitted to hospital on January 12 and his spokesman Robert Holmes said at the time: "He's one of the most sprightly 90-year-olds I'll ever know.
"He does have a chest infection and is being monitored for that. He's on antibiotics and, God willing, he will be fit and well again soon. I was told that flu has been ruled out."
Get the latest updates, reviews and unmissable series to watch and more!
Thank you for signing up to Whattowatch. You will receive a verification email shortly.
There was a problem. Please refresh the page and try again.