Stacey Dooley on Strictly Come Dancing: 'I'm clumsy and a bit all over the shop!'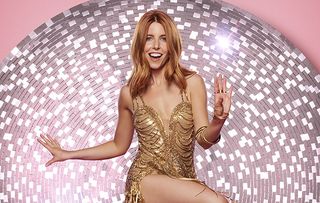 (Image credit: BBC)
Stacey Dooley has visited warzones, high-security prisons and everywhere in between for her hard-hitting BBC3 documentaries. Here, the investigative journalist, 31, reveals why she's swapping the frontline for the dancefloor...
Stacey Dooley on embracing the glitter and sparkles of Strictly Come Dancing...
How have rehearsals been going for Strictly?
Stacey Dooley: "Amazing. It's hard graft and I think I may have underestimated it. When we were all training before the show started, by the end of each day, we were all so minging, everyone was sweating. But it is incredible."
You're partnered with pro dancer Kevin Clifton. How are you feeling about dancing closely with him?
SD: "I think it's part and parcel of dancing. I think if you're too stiff or you're too reserved, you don't connect and there's not that chemistry that's necessary for the show. I'm just loving the dancing."
Stacey will be strutting her stuff with Strictly pro Kevin Clifton
Would you say you're a natural mover?
SD: "No one's rubbish on Strictly this year. You know sometimes people must think: 'We'll be alright, we won't go out first'. But no one's rubbish this time. Everyone's great - if you see someone struggling with something, by the time you look again, they've picked it up."
On this week's first live show, you're dancing a quickstep to Dancing by Kylie Minogue. What other dances are you looking forward to performing?
SD: "I'd quite like to do the tango because I think it's quite sassy – whereas I'm clumsy and a bit all over the shop! So I think it would be nice if I could channel that."
What are you most nervous about when it comes to being on Strictly?
SD: "My biggest fear, the thing that fills me with dread, is that I'm stood there, the music starts and I'm like: 'What am I supposed to be doing?'"
Stacey visits hostile environments for her documentary series Stacey Dooley Investigates
Strictly is a world away from the environments you encounter in your documentaries. Are you looking forward to embracing all the glitter and sparkles?
SD: "100 per cent! When they asked me if I was interested in doing this, it felt like a no brainer. I've been away from home for such a long time, I've been doing documentaries for 10 years.
"They're really important but often quite harrowing - you're in Iraq or Honduras, really hostile environments - so to be able to take a month or two and be at home, go home to my family every night, and learn an amazing skill, potentially, I'm fully going for it!"
Will you still be working on any documentaries while taking part in Strictly?
SD: "Yes, I'm doing a couple of things actually. I've just finished a documentary looking at paramilitaries in Belfast, which clearly is a million miles away from Strictly! And I'm doing a series for BBC3 about make-up artists who are competing to win an amazing job at the end of it and then I'm also doing some other things for BBC1.
"So my schedule is mental! I was looking at it yesterday going: 'I've got three hours there, where I can train'. But everyone's in the same boat, I just need to crack on."
Strictly Come Dancing goes LIVE on Saturday September 22 at 6.15pm on BBC1.
Get the latest updates, reviews and unmissable series to watch and more!
Thank you for signing up to Whattowatch. You will receive a verification email shortly.
There was a problem. Please refresh the page and try again.