'Star Trek: Lower Decks' renewed for Season 3
We got a release date, too!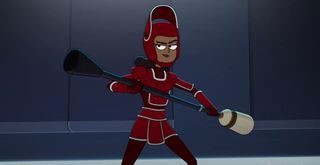 (Image credit: Paramount+)
Happy First Contact Day, everyone! Yes, Paramount+ is celebrating the anniversary of the day Vulcans first made contact with the human race just a scant forty-two years early, but that just means that we get some brand spanking new Star Trek content to talk about. And we're very happy to report that the First Contact celebration has revealed some exciting news about the goofball problem child of the franchise, Star Trek: Lower Decks.
That's right, we're getting a second season, and while we knew that already, here's a sweet little teaser of what we can expect in the not-so-distant future.
New episodes start airing on Thursday, August 12, 2021.
But that's not all! Paramount+ has also gone ahead and renewed the show for a third season. We can take this as a sign that the network is very happy with how the show is developing and are confident that it will continue to be a funny addition to the otherwise more serious Star Trek canon.
I've gone on record as being a big fan of the show, as my reviews of the first season explored in detail. Sure, it wears its inspiration from Rick and Morty on its sleeve, but it's also a surprisingly reverent take on Star Trek mythos that still isn't afraid to poke at some of the hypocrisies of The Federation. It's a very different take on Star Trek that never loses sight of what it means to be Star Trek.
Star Trek: Lower Decks was created by Mike Mahan and stars Tawny Newsome, Jack Quaid, Noël Wells, Eugene Cordero, Dawnn Lewis, Jerry O'Connell, and Gillian Vigman.
Get the What to Watch Newsletter
The latest updates, reviews and unmissable series to watch and more!
Leigh Monson has been a professional film critic and writer for six years, with bylines at Birth.Movies.Death., SlashFilm and Polygon. Attorney by day, cinephile by night and delicious snack by mid-afternoon, Leigh loves queer cinema and deconstructing genre tropes. If you like insights into recent films and love stupid puns, you can follow them on Twitter.