'Be still my beating heart': Casualty fans have a BIG reaction to newcomer Bea Kinsella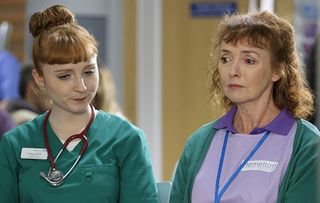 (Image credit: BBC / Alistair Heap)
Casualty newcomer Bea Kinsella has already caused quite the stir. Last week's episode introduced us to the new character, and we saw the feisty junior doctor dividing viewers after being caught making comments about a dying patient by their daughter.
Last night saw more drama unfold for Bea, who woke up after a heavy night in a stranger's bed.
It soon became clear that Bea wanted to do a runner, but when Bea's one-night stand came looking for her in the ED, she found herself agreeing to a date. Fans delighted in finding out more about Bea's love life, especially excited by the prospect that there might be a new Casualty romance on the horizon.
Could there be a new 'ED power couple'?
And it's not just Bea's bedroom antics that have got fans talking. Twitter users were quick to point out that her ride to work is strikingly similar to the now famous rickety old car from comedy show The Inbetweeners.
Many a disastrous road trip took place in that rusty old Fiat Cinquecento, and it looks as if the boys could have donated it to another young TV character.
'Anyone want to tell me how and why Bea has the car from The Inbetweeners?' one fan wrote. While another said 'Haha, Bea has The Inbetweeners car.'
Irish actress, Michelle Fox, who plays the new junior doctor, has appeared in Doctors, and stars as Imogen in Overshadowed. She's already made her mark on Casualty, with fans of the show finding her 'endearing' and 'refreshing' - right from her very first appearance.
One exclaimed on twitter, 'Bea is so adorable, she's only been on screen for about two minutes but I already love her.'
Another wrote, 'Love her. Superb 1st episode', while another agreed, 'Great first episode – love her already!'
Last week's episode saw fans praise the show for the shining a light on the NHS crisis, with the ED struggling to cope with high demand.
One fan wrote, 'Such a powerful and hard-hitting episode tonight. It's so shocking to get such an awful insight into the state of the NHS, but that's why it's also so necessary and it's what #Casualty does best.'
Get the latest updates, reviews and unmissable series to watch and more!
Thank you for signing up to Whattowatch. You will receive a verification email shortly.
There was a problem. Please refresh the page and try again.