Strictly star Joe Sugg opens up on 'intense pressure' after being named favourite to win: 'Everyone's eyes are on you!'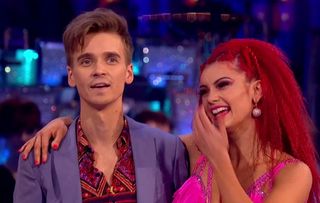 (Image credit: BBC)
With the Strictly Come Dancing final edging closer and closer, now contestant Joe Suggs has opened up about being favourite to win.
The YouTube star has been gradually climbing the leaderboard in recent weeks, with his Couples' Choice street dance to 'Jump Around' scoring a whopping 35/40 on Saturday night.
But after being named most likely to lift the Glitterball by bookies, 27-year-old Joe revealed he now feels an "intense pressure" to nail his performances.
"This whole experience has been of massive ups and downs of pressure," he admitted.
"I handle the pressure well in certain circumstances, like on the actual night when the crowd is there. I actually perform better when there is a bigger crowd, which is a bit odd.
"But in terms of being a favourite, that is quite an intense pressure. You really do feel that everyone's eyes are on you. You do sort of feel it."
Despite having millions of followers on social media, the star - who is partnered with professional dancer Dianne Buswell - also went on to speak about his insecurities, saying he suffered serious confidence issues as a child.
He said, "I definitely grew up with a bit of confidence issues, which is kind of weird as my job is to talk in front of a camera.
"I think, like most kids growing up, it's the high school thing of, 'Why can't I be as cool as this kid'. You always compare yourself to other people.
"I have always been quite a shy person. It takes me a while to come out of my comfort zone and get comfortable with the people I am around.
"Everyone on the show has really helped that. It does boost you up a bit. And the dancing, especially the dancing."
Meanwhile, although Joe managed to bag two 10s from judges Shirley Ballas and Bruno Tonioli last night, Craig Revel-Horwood was seemingly less impressed as he only gave Joe a seven.
Commenting on the energetic performance, Craig said, "I felt it looked a little bit too concentrated, and by that, I could see it going around in your head rather than you totally performing it.. It is difficult to stay in sync when you are using props and it got out of sync on many occasions... but we adored watching you."
With the competition heating up, will Joe and Dianne make it through to next week?
Get the latest updates, reviews and unmissable series to watch and more!
Thank you for signing up to Whattowatch. You will receive a verification email shortly.
There was a problem. Please refresh the page and try again.