Strictly Halloween! Faye Tozer, Ranj Singh and Lauren Steadman have all the ghoulish gossip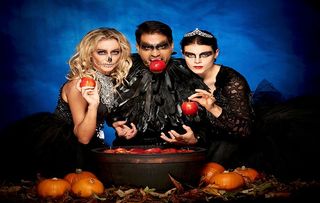 There's something haunting the Strictly studios this weekend, and we're not talking about no-nonsense judge Craig Revel Horwood!
It's time for the show's spooky Halloween special this weekend, complete with a cobwebbed dance floor, chilling choreography and vats of face paint, but TV Times isn't scared at all – we've invited three of the friendliest Strictly contestants of all time to guide us round the building!
STEPS queen Faye Tozer, This Morning medic Dr Ranj Singh and world champion triathlete Lauren Steadman took up our challenge to shake off their smiles and go over to the dark side for our exclusive Halloween photo shoot and the results are simply spook-tacular!
Here they tell us about their love of Halloween, their biggest fears and how Strictly has surprised them…
How does it feel to be celebrating Halloween, Strictly style?
Ranj: "I'm a Strictly superfan and the Halloween special is my favourite week. I know people talk about Blackpool, but this is the one for me because I love dressing up!"
Faye: "STEPS performed on last year's Halloween special and we got to witness all the fabulous stuff behind the scenes, so to be here this year and have that experience myself, I can't wait."
Lauren: "I'm the sort of girl that loves all holidays, especially Halloween, I'm always dressing up and the idea of all the couples being in crazy outfits is so exciting."
https://youtu.be/fQLJL5DhPLY
Do you usually go out trick or treating?
Faye: "We have a big box of Halloween decorations that we get down, our house gets covered and we get everyone to dress up and come round for a party. My son's really excited this year, he loves the school Halloween disco and he wants to be a zombie."
Lauren: "I go to three or four Halloween parties every year, I don't do the sweets but I love to get dressed up and be with my friends, I usually spend an hour painting my face and then I have to do everyone else's too!"
Ranj: "It's just a great time of year. I have to go to at least one Halloween fancy dress party each year, I've started face painting too, and using gold leaf, glitter and rhinestones to create certain looks, I love it, but it usually takes me about four hours to get ready!"
What scares you?
Lauren: "I'm a bit of a chicken when it comes to scary stuff, I don't like scary movies and if there was a big spider I'm not sure I'd be very happy about that either. I'd have to call my sister to remove it!"
Faye: "Spiders are my biggest fear too. I'm quite happy with rodents though, I adopted two rats a few years ago…"
Dr Ranj: "I can't watch horror films, the last one I saw was several years ago and I didn't sleep for three nights afterwards. Weirdly I sleep with the lights and the telly on, I don't like it to be pitch black. I can be brave if I need to be though, I'm not freaked out by gore… that's a good thing given the job I do!"
Is the dancing harder or easier than you thought?
Ranj: "Harder! I like party dancing, which I thought that might help but actually it doesn't. I'm getting fitter and stronger but it's remembering the steps that's hard. Janette's incredible, she gets me and it's a perfect partnership. I've started to get really bad anxiety during the week, because of the pressure and the adrenaline, which has been interfering with the learning so Janette gives me pep talks every day."
Lauren: "Dancing is hard. I'm an athlete so my endurance is there and I can keep going, but the muscle groups are so different, my body doesn't want to go in the direction AJ is telling me to go in! Every week you get better at being in time to the music, and learning steps, but all the dances are so different so every Monday is hard. AJ is quite the taskmaster but his training philosophy suits me quite well and he loves his tea breaks."
Faye: "I'm tired because it's so physically challenging but it's so satisfying as well. I'm not putting any pressure on myself, nothing is guaranteed and I could be going home next week, so I just want to have the best experience and enjoy it. Giovanni tailors every routine to my strengths, which really helps. I saw Claire (Richards, from STEPS) the other day and she has every faith in me – more than I do in myself!"
Are you enjoying the Strictly experience?
Faye: "It's a dream come true, I've wanted to do this show for years, we even invited Strictly casting agents to the Steps shows, so I jumped for joy when they finally asked me! It's everything I wanted it to be and more and I absolutely love working with Giovanni, he's so creative."
Lauren: "I know I've already made lifelong friends and I'm learning new skills all the time. I've had lots of messages from people with disabilities and younger girls and if the only thing I do in all of this is to inspire a younger generation then I've achieved my goal, it's a real privilege."
Ranj: "Strictly literally takes over your entire life, in an amazing way. My job in A&E is really important to me, so I still fit in a 13 hour NHS shift in the week. That loses us a whole day of training but I didn't want to give it up. The hospital have allowed me to be flexible, and it's a great ice breaker with my patients! My colleagues think it's a bit surreal, but they're really supportive… they know I still take my tea-making duties very seriously!"
Catch Strictly Come Dancing on Saturday 27th October at 6:50pm on BBC One
Get the latest updates, reviews and unmissable series to watch and more!
Thank you for signing up to Whattowatch. You will receive a verification email shortly.
There was a problem. Please refresh the page and try again.