Strictly's Anton Du Beke: 'I've often wondered what it would be like to make the final – it looks exhausting!'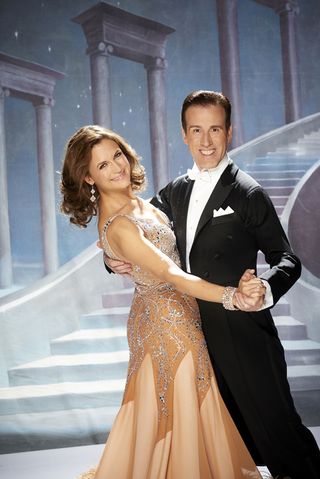 (Image credit: Dan Goldsmith)
Anton Du Beke (opens in new tab) is all smiles when he arrives at the TV Times (opens in new tab) cover shoot, and it's no wonder. After more than a decade of dancing (and sometimes flying) with the likes of Ann Widdecombe and Judy Murray, Strictly's most popular pro finally has a shot at the coveted glitterball trophy.
His partner Katie Derham (opens in new tab) has dazzled the judges with her natural ability, and Anton has joked that it would usually take him weeks to rack up the points they are receiving for each dance!
As they strike a glamorous pose they chat to us about their chances of glitterball glory…
Anton and Katie, you look sensational! Fred and Ginger would be proud…
Anton: "What a lovely shoot! This is what dancing feels like to me. Katie looks incredible in that dress and I love a top hat and cane. Fred Astaire has always been my hero and I loved the old movies and musicals when I was growing up, they were a big inspiration to me. "
Katie: "I thought I was a complete nerd about MGM musicals, but my knowledge is nothing compared to Anton's! Me and my sister used to have all of our favourite dance scenes on one VHS at home, I'm a sucker for those films. I love this dress, it feels proper. I just want to twirl around in it."
(Picture courtesy Dan Goldsmith/TV Times)
Anton, you've become the go-to partner for Strictly's less gifted contestants. It must be a dream come true to dance with Katie?
Anton: "It's never been about winning, I just enjoy the process and I love being part of Strictly. You're with each other for a long time every day and Katie is a joy to be with. She's actually turned out to be rather good so that's a little added bonus for me, but I enjoy dancing with all my partners, be it Ann Widdecombe or Judy Murray."
Katie: "Not as much as you enjoy dancing with me though."
Anton: "I enjoy being with Katie the most of all the ladies I've ever met in my life. Seriously. My mum comes a close second. [laughs]"
Don't pretend you haven't thought about winning, Anton…
Anton: "I've often wondered what it would be like to be in the final, but then I've thought to myself, you've got to do two dances every week, it looks exhausting! The new dancers come to pro rehearsals every year and comment that I've never won. Then the rest of the room goes silent and the girls try to comfort me. I never get to touch the glitterball trophy…"
Katie: "I had a whole room redecorated just in case, with an empty plinth in the centre. That's a joke! At the moment we're all giddy with it, but I'm sure we'll get more competitive. I want to get to Blackpool because everyone says the after-party is really good!"
Katie, you're being billed as the woman who could take Anton to the final. Is that added pressure?
Katie: "I have to say there is a world of support out there for Mr Du Beke and I think they will hunt me down like a dog if I let him down, I'll never be able to go out again."
Anton: "Waitrose will be an entirely different experience. You'll have to shop online!"
Katie: "You've got to be philosophical about it, I'm sure the viewers at home understand there is nothing that we can do to plan the outcome of this series other than to do our best each week. It's lovely to feel that support out there though, it's really surprising and reassuring. Everyone wants to stop and talk about the show – I've been working in telly for 20 years but now I'm 'Katie off Strictly' and I'm delighted with that."
Katie, when you were partnered with Anton you described him as your guilty pleasure. Has he been the kind of person you expected?
Anton: "I'm higher maintenance!"
Katie: "He's everything and more – that's what Anton taught me to say. I have to say 'legend' at some point too, don't I? I wanted to get Anton because I've watched every series of Strictly and I knew we'd get along and it would be a laugh. He gets my jokes, not everybody does. They're not repeatable unfortunately."
Anton: "We have the same humour but it's a humour we need to keep in the studio…"
Anton always looks so dapper in training. Katie, does he let you wear gym clothes or does he insist on something smarter?
Katie: "Well, I do turn up in my sports kit, but I often feel as if I've been invited to a completely different party! Most of my exercise clothes are box fresh, never before used, some of them dating back many years..."
Anton: "There are some tremendous colours! Training in collar and tie is just what I've always done, it helps me find my form. Gleb [Savchenko] and I are going to have a wardrobe exchange one day. I'll be wearing a baseball hat backwards, vest and jogging bottoms with a low crotch."
Katie: "I would pay such a lot of money to see you come to training wearing that. Except that knowing you it would all be very neat and well pressed."
Anton: "Oh yeah it would be beautiful, I'd have a crease down the front of my jogging bottoms!"
Katie, are your daughters excited to see you on Strictly?
Katie: "Yes my elder daughter, Natasha, does 16 hours dancing a week so she's chuffed to bits. She came to the studio one Saturday night and she was just agog to be sitting on the front row, seeing all the professionals so close, she's enthralled by it all. Both the girls love a good Anton story as well, but I'm judicious in what I tell them to pass on to the playground!"
Anton: "Choose wisely!"
Get the latest updates, reviews and unmissable series to watch and more!
Thank you for signing up to Whattowatch. You will receive a verification email shortly.
There was a problem. Please refresh the page and try again.