Strictly's Carol Kirkwood: 'Pasha is patient, but won't take nonsense. That's just what I need!'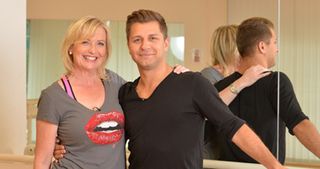 Reigning Strictly Come Dancing (opens in new tab) champion Pasha Kovalev and BBC weather's ray of sunshine, Carol Kirkwood invited TV Times to join them behind-the-scenes in training…
It's bright and early, and the outlook is sunny with a high chance of sparkles....
BBC Breakfast's weather lady Carol (opens in new tab) has hotfooted it from her day job at the BBC studios in London down to a local dance academy near her home in High Wycombe, where Strictly professional Pasha Kovalev has just arrived on his pushbike (they're very low maintenance, these champions!)
How are you feeling Carol?
Carol: "I am giddy with excitement! Although I have had a few nightmares about forgetting the steps…"
Pasha: "This nightmare business has to stop! You're not going to let me down."
You were delighted to be matched together at the launch show – are we witnessing the beginnings of a perfect partnership?
Carol: "I was hoping for Pasha and I made no secret of it! One of the papers wrote, 'Carol gets her dream man' and that's true – he can expect lots of hugs from me! He's a very patient teacher, but he won't take any nonsense, and that's exactly what I need."
Pasha: "Carol is lovely, she has the most amazing smile and she's excited about learning to dance, which is the best quality you can have in a Strictly partner. Plus she's energetic and she can wiggle, so we're going to be fine."
Carol: "How do you know I can wiggle, Pasha?"
Pasha: "You do it all the time!"
Have you done any dancing before, Carol?
Carol: "I'm ashamed to say I can't even do a proper waltz, but it's a dream to have the chance to learn. I have done some Scottish country dancing at ceilidhs and weddings though, where everyone swirls and twirls in a raucous way!"
Pasha: "That's one style I haven't learned."
Carol: "I could teach you, I know some easy dances.
Pasha: "Do you think I can only handle the easy ones? Thanks!"[laughs]
How have you prepared for the Strictly training regime?
Carol: "I did some core exercises with a personal trainer – although I could probably have done with starting those 20 years ago rather than six weeks ago! – and I've got a million bananas in my bag. I'll train as long as Pasha can stand it and as long as I can stand up."
Pasha: "That's a very professional approach to the competition – she's already one step ahead of me!"
Pasha won last year's series with X Factor presenter Caroline Flack, he's been runner-up twice with Chelsee Healey and Kimberley Walsh, and he's had more 10s than any other pro. Does that pile on the pressure?
Carol: "Yes! It's fantastic to be with the champion, but equally the only thing Caroline and I have in common is the first part of our names."
Pasha: "And a partner! That's more than enough. [turns to Carol] Listen, it's different every year and I think you're going to be quite special in this competition – nobody else will be like you, so don't look at previous winners."
Pasha, did you start coming up with choreography ideas straight after the launch show?
Pasha: "No it works a little bit differently for me, because I believe I need to spend some time with Carol and see who she is as a person, what kind of music she likes and what characters she can play. I like to do my research on the dance floor and find out what moves will look good on her, otherwise I can make up a routine and it will not suit her, which is a waste of everybody's time."
Carol: "That's so reassuring, thank you Pasha!"
Carol, many of your BBC Breakfast colleagues have competed on the show. Have they offered any advice?
Carol: "Yes, Chris Hollins won series seven [with Ola Jordan] and he told me to get my partner to do all the work, I thought that was great advice." [laughs]
Pasha: "What does he mean?!"
Carol: "He also told me to request dry ice to hide my feet, and not to get so caught up in the show that you forget to live your life."
Pasha: "Life? There's no such thing. Once Strictly starts, this is your life!"
Get the What to Watch Newsletter
The latest updates, reviews and unmissable series to watch and more!