Strictly's Steve Backshall; 'I thought I would never walk again, let alone dance'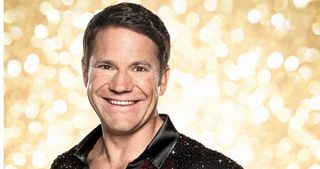 Steve Backshall (opens in new tab) talks to TV Times (opens in new tab) about overcoming a broken back, leg and ankle in climbing accident to do a special dance for EastEnders' Adam Woodyatt on Strictly (opens in new tab) (Saturday and Sunday, BBC1)...
You thought you'd never walk again, so how does it feel to be appearing on Strictly?
"It's been a tough road back to health and I was concerned about being able to walk again, let alone dance, so it feels really good to be spinning round the floor and not worrying every single second about whether my body is going to fall apart."
It's been a long road to recovery. How did you cope?
"It has been really hard, but there are people around me who have suffered so much worse, and who would kill to be in my situation, so you've just got to be realistic and pragmatic. I've had constant rehab and I'm a very positive person."
Do any of your injuries restrict you when dancing?
"My left ankle is fused, which means that my leg bone and ankle bone are joined together, so I can't flex my foot. The judges tell me to point my toes, but I can't do it! You just have to get around these things though. Every single one of us is going to face different challenges and this is mine."
It must feel like a huge achievement being part of the 'Strictly family'...
"The great joy of this show is that I get just as much excitement out of seeing the other guys do well as I do achieving something myself."
What's been your highlight of the series so far?
"Watching Jake Wood come from absolutely nothing to perform streets ahead of the people that have been dancing their whole lives. The night he performed that salsa I was leaping up and down like a mad man!"
Does taking part in a dance competition frighten you?
"I don't want to overhype how frightened I am – at the end of the day it's just dancing, and nobody is going to die – but I'm waking up almost every night in a cold sweat! It's the idea of 10 million people watching me make an utter fool of myself. So far I've managed not to be paralysed by the fear, but it's still too stressful for me to actually enjoy the dances. My hope is that as we get further in I'll get more confidence and maybe I'll find it fun! But I'm not in it to win it, I'm here to do the best I can and if a couple of people with injuries see me on the show and think, 'It's not all that bad', that would be fantastic."
You had an embarrassing moment in the second live show. What happened?
"Ola had this idea that at some point I'd go to the front row, find some poor woman sitting there and shake my booty in her face. I went over to the portion of the crowd where I was supposed to do that and first of all I found my sister. Sat next to her was Adam Woodyatt, who plays Ian Beale in EastEnders, so he got an eyeful that he really hadn't expected. He was bewildered and it totally threw me!"
Get the latest updates, reviews and unmissable series to watch and more!
Thank you for signing up to Whattowatch. You will receive a verification email shortly.
There was a problem. Please refresh the page and try again.