'I felt like I'd been 10 rounds with Tyson,' says Suspects star James Murray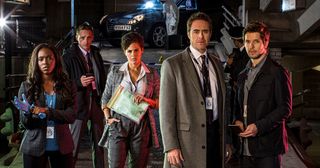 (Image credit: Colin Hutton)
James Murray joins Channel 5's unscripted crime drama Suspects for the fifth series and he soon finds himself in the thick of the action...
It's a bit of a shocking start to the new series of Suspects, isn't it? "Yes! We open with DI Bellamy brutally murdered in her bed at home. Shot in the head. That's massive in the world of Suspects because she was the key figure, the lynchpin, the head honcho.
"Drummond is sent down from above and investigates the crime. In doing he so takes over Martha's old role of running the floor there and running the offices at the CID. He's thrown in at the deep end because it's a huge murder investigation. It's very personal with all the characters that we know and love from the show, so he's got to hit the ground running. It's a great series and I'm so pleased to be involved."
What kind of effect does that have on the team because she was very much the key to the team? "She was. She was loved as well as respected. They're very wary of Drummond to begin with. He does things differently, he's a bit more cut and dry. They find that a little disconcerting, but I think they quickly warm to him because they believe he's a good detective and that he's someone decent to have on board to potentially find the killer. Also they haven't got time to think about it, emotions can't get in the way too much, which is what's great about this show.
"This series moves very quickly and there's an overriding storyline which is 'Who killed Martha Bellamy?' But in investigating that crime, lots of other cans of worms are opened. Lots of other crimes happen and it's all related and interlinked so it's beautifully crafted. There are lots of plots going on simultaneously."
Suspects has no script and the actors are given a detailed treatment and told to improvise conversations. How did you find that aspect of filming? "Brilliant. Fantastic. That's why I wanted to do it. That's what makes it different to any other police show on the TV, of which there are many at the moment. It's an actor's medium.
"We're given a 30-page treatment of each episode, broken down into scenes, which tells all the different stories and then we're just told to go for it. We have an ex-detective on set to make sure that we get all the jargon right, the behaviours within the police station and the rest of it, but the rest is just up to us. They just follow us with the camera and we do what we want."
Have you done much of that before? "No. Absolutely none. Sometimes if you're lucky on a scripted drama you get to improvise slightly off page depending on how forgiving the writer or the producers are, but most of the time it's very set in stone. So this was just a joy to do. I fell in love with acting all over again."
It must have been a bit nervy though? "Yeah. Hugely terrifying. Petrifying. It's a cliche but I think in order to get better especially as an actor, but pretty much anything, you've got to put yourself in the uncomfortable areas to see how you cope, which is what this show was for me.
"To begin with, it was terrifying, especially because the dynamic that had already been created between the other actors, who were fantastically supportive. But we didn't meet before. We were thrown into the first scene where they had to be stand-offish with me and judgemental, and I had to come in and take charge. So that was a scary moment but once we got past that they were great. They were really helpful and supportive."
So the team are absolutely stunned by Martha's death... "They're heartbroken and it fuels them to go and find who killed her, but at the same breath Drummond has to make sure that they don't use that passion and that energy to sway them and to unfocus them. It's treading carefully because he doesn't know them but he has to be firm and say, 'Look I know this is deeply personal to you guys but just treat it like any other case. We have to solve this case. Find the murderer, so take your emotional hat off if you can.'"
Did you do any research about that aspect of the story? "That's apparently what happens. A lot of police officers get killed. Of course they do, they're targets unfortunately. We were talking to the detective on set and he explains when one of your own gets murdered, nine times out of 10 you probably know who did it, but you cannot let it get in the way. You just know it's part of the job. It's like when a soldier is killed, the rest have to carry on fighting, don't they? As tragic as it is, it's part of the job."
Is this the first time that you've played a detective? "Yes it is."
What else can you tell us about the preparation you did for the role? "There is this amazing guy who's on set the whole time and he was great. I said, 'Look, for the next month I'm just going to badger the hell out of you. Really sorry hope you don't mind,' and he said, 'Please, that's what I'm here for.'
"So there'd be emails. I'd wake up at 4.30am as you do, and I'd go, 'What's the difference between a DCI and a DI, and how do you get there? Why would they do this?' And you'd read up a lot about it and it becomes fascinating. I was spending a lot of time chewing his ear off because he was ex-internal affairs, which is a big undercurrent in this series.
"He was absolutely invaluable. The best note he gave me was, 'Yes you're an über detective, and you're great at your job and that's got to come across on screen to be believable, but über detectives talk like you and me talk now.
"Yes there is police jargon when you're talking about cases which we'll obviously get right, but when you're talking to your officers it'll just be like two actors talking to one another. There's no specific way of speaking.' Which I thought was a really good note, so you don't get het up in going, 'Am I sounding like a cop?'"
There are lots of police dramas on TV. Were you waiting for something special to come along? "I normally play, especially recently, I normally get cast as the baddie. I play CIA agents, I've played mayors, I've played people in positions of power if you like, but never police. It's rare considering how much police drama is out there.
"But this one, when I first heard about it, I didn't realise it was improvised. I got an email through saying they want to see you for Suspects, and I went; 'Not a bloody police drama. Can you send the script?' because you always hope that this one is going to be the new Killing or the new Wire. Sometimes nowadays there is no script, it's just lame and you go, 'I can't make a decision. I don't want to go and meet these people if there's no script because it's not fair on either of us.'
'No you don't understand. There is no script. It's improvised.'
So then I picked up the phone to my agent and said, 'What do you mean it's improvised?'
'The whole show is improvised, you should watch it. It's great.'
So I watched and was really impressed. The way it's shot, to fool you into thinking it's almost like a documentary. It was a no-brainer. When I went to talk to them about it they said, 'Right can we do some improvisation right now?' I had no idea of character. They told me a little bit about who this character might be. I said, 'What, right now?'
'Let's do it right now. Don't think about it, let's do it.'
They stuck the camera on me and they put me in a police interview situation, which you see quite a lot of in the show when you're interviewing a suspect. They pressed record and off we went…
Two minutes went in, three minutes, and I was just sort of riffing, making it up and going, 'This must be utter bollocks.' I thought. 'They're going to have to press stop any minute. This is a waste of everybody's time.' And then it went on and on and on and on. I forgot about the camera and I just got into a sparring thing, mental sparring game of chess which was really good fun. And then 45 minutes later they stopped the tape and I just felt like I'd been through 10 rounds with Tyson, but it was amazing. The adrenalin was flowing, the endorphins, and I was going, 'I haven't felt like this from acting for about 10 years because it's so real and vibrant.'
"I was connected with this guy and everything else just disappeared in the peripheral. Then and there I thought if I get offered this I definitely want to do it."
How was it coming into that process? Obviously the rest of the Suspects cast are more used to it than you... "Stupidly, I met Damien Molony a few days before and I said to Damien him, 'Don't treat me with kid gloves.'
And he went, 'Oh OK really?'
And I went, 'Yeah, let's go for it. I think that's going to be the best way. Throw me in at the deep end.'
'Are you sure?'
'Yeah. Let's do it.'
And whole cast are very good at what they do in this show. I got into the boxing ring with them on day one and they beat me up pretty badly. Between scenes all I wanted to say was, 'Whoa whoa', but of course it was my own fault. I'd had this thrust upon me by myself. But it worked.
"Looking back on it the whole dynamic of that first scene – I think it was when Drummond comes in and takes over the investigation and they're all very fraught having just discovered Martha's dead body. He has to come in and take charge and I think it worked. It sort of kept the energy up and I had to work to get their love if you like, to get their respect, and it took a couple of days."
We do learn something quite disturbing about Drummond at the end of that first episode. Is he going to be here for just one season, or will he be a bit like Craig Parkinson's character in Line Of Duty, for the next few years? "He could be. I couldn't possibly tell you because I don't make those decisions, but if those decisions were made then – yeah for him to come back, absolutely. You're right there are other things going on in Drummond's world. His back story starts to permeate into the present and it's not necessarily a good match. And is it all connected? Is it not? You'll have to wait and see but yeah, Drummond might be – there's certainly a chance for him to be revisited, but I don't know whether the audience will want to do that after the end of the season. We'll see."
Suspects starts on Wednesday, August 3, on Channel 5
Get the latest updates, reviews and unmissable series to watch and more!
Feature writer for TV Times, What's On TV, TV & Satellite Week and whattowatch.com
Sean has been writing about all things telly for over 10 years and in that time he's been lucky enough to interview stars like Ian McKellen, Tom Hardy and Kate Winslet. His favourite shows are The Great British Bake-Off, People Just Do Nothing and Succession and in his spare time he enjoys drinking tea, doing crosswords and watching football.
Thank you for signing up to Whattowatch. You will receive a verification email shortly.
There was a problem. Please refresh the page and try again.