The Deadly Mantis (1957) | DVD release – We're going to need some more bug spray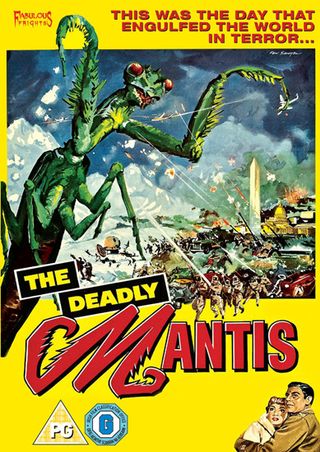 Back in the 1950s, giant bug creature features were all the rage and scorpions, spiders, wasps and ants were a constant menace at the movies. But this 1957 classic was the first to threaten Washington DC.
SYNOPSIS When a giant carnivorous praying mantis is released from its million-year slumber in the frozen Arctic, a determined commander (Craig Stevens), a palaeontologist (William Hopper) and a photojournalist (Alix Talton) work together to stop its terrible path of deadly destruction towards the Capital.
ABOUT THE FILM 1957's The Deadly Mantis was filmed to cash in on the success of Them!. It was directed by Nathan Juran, who won an Oscar in 1941 for How Green Was My Valley, and who went on to helm genre classics like Attack of the 50 Foot Woman and The 7th Voyage of Sinbad, as well as Irwin Allen's sci-fi TV shows Voyage to the Bottom of the Sea, Lost in Space, The Time Tunnel and Land of the Giants.
DID YOU KNOW? Most of the cast and crew of the sci-fi classic had real-life combat experience, no more so that screenwriter William Alland, who was a combat pilot in World War II, flying 50 mission over the South Pacific. Alland got his break acting appearing on Orson Welles' notorious 1938 War of the Worlds radio broadcast, and also appeared in Citizen Kane (1941). Actor William Hopper, who was the real-life son of gossip columnist Hedda Hopper, received a Bronze Star among other medals for his services working in he US Navy's Underwater Demolition Team, while Craig Stevens acted in propaganda and training films for the US Army First Motion Picture Unit.
The Deadly Mantis is out on DVD in the UK from Fabulous Films http://youtube.com/v/Twh9ErdSf-4
Get the latest updates, reviews and unmissable series to watch and more!
Thank you for signing up to Whattowatch. You will receive a verification email shortly.
There was a problem. Please refresh the page and try again.