The Durrells' Keeley Hawes: I'm having the time of my life and everyone at home is annoyed with me!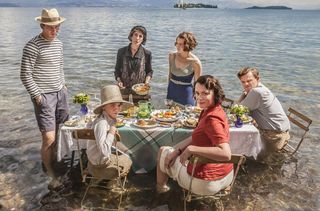 Keeley Hawes tells TV Times about working with children and animals for sunny new ITV series The Durrells (Sunday, April 3), and the sacrifices she has made to play her dream role…
Keeley, you're a lifelong fan of Gerald Durrell's classic memoir, My Family And Other Animals, aren't you?
"I first read it when I was nine years' old and then we had a family holiday to Corfu. People didn't have as many foreign holidays then and it was so magical, the island was exactly as I'd imagined it. The book has been adapted a couple of times, but the first time I was too little and the second time I was too old to play one of the children.
"My friend [Downton star] Matthew Goode starred in that version and I was so jealous! Then I heard they were doing this series and I knew I was the right age so I was thinking, 'Please let the scripts be what I want them to be!' Luckily I loved them."
Tell us about this drama's new take on the family's story...
"The book is told from Gerry's point of view when he's little, so there are no money problems in his world. But actually they're really struggling and Louisa is in a new country having to put food on the table.
"It makes you realise how extraordinary she was, when you think about the journey they would have made, sort of on a whim, just because one of her sons suggested it might be quite nice. How do you get away with that? I try to get my kids out of school for two days and the police come round! I'm full of admiration for Louisa. She's seemingly fearless, but really she's very vulnerable."
The producers have brought a whole menagerie of creatures to the screen, how was that for you?
"There's that thing of not working with children and animals, but as far as this series goes I'd much rather work with them than lots of adults!
"They're fabulous, we have some pelicans that are just heavenly and it's quite exciting when the animals are there, however old you are. I love a tortoise and there's a seagull called Stephen Seagull we've been working with. I think there's going to be octopus, too. I grew up in a council flat with dogs and a cat, but nothing like this!"
How have you coped with being away from your own family?
"I normally get Bermondsey or Luton, so I thought my time had come to go abroad! Filming was supposed to be during the school summer holidays [Keeley has three childen with Ripper Street star Matthew MacFayden], but then it got pushed back and for a couple of terrible moments I thought I wouldn't be able to make it work.
"But I fly home and they've been out to visit and I'm refusing to feel guilty about it, because I really wanted to do this job. It's my adventure! Anyway, I tell my 15-year old son I'll be back soon and he always says, 'Well, actually, I've got a party to go to'. He has to make sure I'm OK rather than vice versa!"
We hear the Durrell family put a table in the sea for a very special dinner party scene. Not something you can do in Bermondsey….
"It was absolutely gorgeous. We spent a day down there, and it was very hot, the tide was coming in towards the end. I sent Matthew lots of photographs and he started sending me pictures back of brick walls and horrible corners of Dublin [on the set of Ripper Street], so I won! Everyone at home is really annoyed with me."
You won critical acclaim for your performance in Line of Duty and are soon to star in BBC2's Shakespeare adaptation The Hollow Crown. Would it be fair to say this is the best time of her career so far?
"It might not last, but I think it is. I couldn't be more thrilled to play Louisa and I really hope people like the series. I've just turned 40 and people asked me about it a lot, but I had been looking forward to it really. When I think of the work I'm doing, where I am, and my children, I didn't have all those things before. Plus Matthew turned 40 before me and he managed to avoid a breakdown!"
Watch an interview with Keeley Hawes about The Durrells:


http://www.youtube.com/watch?v=SpsFHchBMTM
Thank you for signing up to Whattowatch. You will receive a verification email shortly.
There was a problem. Please refresh the page and try again.