The Fall's Jamie Dornan: 'I like playing fractured and broken characters'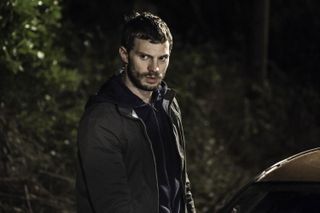 As hit crime thriller The Fall returns to BBC2 on Thursday, November 3, Jamie Dornan reveals what it's like to play a serial killer again…
We last saw serial killer Paul Spector fleeing Belfast for Scotland with his wife, Sally-Ann, and two children. Where does the new series pick up?
"The story follows on soon after his Belfast killing spree and you meet him hiding out in Scotland. But this time, you do find out some of the reasons why Spector has become a serial killer."
He and his family soon return to Belfast. Is DS Stella Gibson (Gillian Anderson) still hell-bent on catching him?
"It takes a lot more than Gibson sniffing around to put him off! He has so much self-belief he thinks what he's been doing is almost divine and untouchable!"
Does he ever think about the effect it could all have on his family?
"I think, to a point, he loves his wife and kids, although I'm not putting him up for any father of the year awards! However, the proximity of Spector's family to his headspace as a killer is just harrowing. Seeing him preparing for a kill, the act of killing and the aftermath is the genius of the show."
Do you find it difficult to step into the shoes of a serial killer?
"After the first series I'm a bit more comfortable playing him, which I suppose is disturbing in itself! You can't help but be slightly scarred inhabiting somebody like Spector and I carry elements of him with me in a worrying way. But I found myself very eager to become him again because I like playing fractured and broken characters. I'm not like that myself, but I find I can relate to it."
Since the first series, you've become a father and have been busy working on the upcoming Fifty Shades of Grey movie. How has life changed?
"I'm far more knackered and I've aged rapidly, but that's all fine! My goal was always to make sure I was back doing this series of The Fall so Gillian and I just had to juggle a couple of things to make sure that we could!"
Get the latest updates, reviews and unmissable series to watch and more!
Thank you for signing up to Whattowatch. You will receive a verification email shortly.
There was a problem. Please refresh the page and try again.