The Inbetweeners star James Buckley about to film a new TV fantasy comedy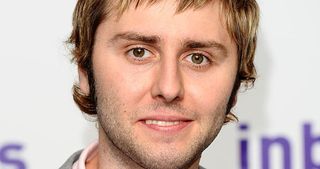 James Buckley will take the lead role in a new fantasy comedy Zapped, which has just started filming for UKTV's entertainment channel Dave.
James, best known as mouthy teenager Jay in The Inbetweeners, plays Brian Weaver, an online data marketing assistant (even he doesn't know what that is) who finds himself abruptly transported to a parallel fantasy world.
Fortunately, there's a pub. There he meets the owner, warrior Herman (former Brookside star Louis Emerick) plus a handful of regulars – hopeless soothsayer Barbara (Sharon Rooney), armchair revloutionary Steg (Ken Collard) and brain-fried wizard Howell (Paul Kaye).
Brian is desperate to get home, and his new acquaintances are no help at all. Instead he finds himself being sucked into a world he doesn't understand, full of psychopathic Fairies, Shell Men, seductive Demi-Fins, vicious Throcks and the frighteningly unpredictable side-effects of Howell's magical powers!
Look out for a guest appearance from Steve Coogan, who'll also executive produce the show.
Steve Coogan says: 'Zapped! is a heightened reality and lots of escapism, with one foot firmly in the real world. It has all the requisite elements to take the audience on a journey to this slightly mad world - from wizards and spells to mermaids, psychopathic fairies, smartphones and then back to the boring office job. We have a great cast on board, led by the brilliant James Buckley. We're excited to be working with UKTV on another original comedy series.'
Get the latest updates, reviews and unmissable series to watch and more!
Thank you for signing up to Whattowatch. You will receive a verification email shortly.
There was a problem. Please refresh the page and try again.