The Reflecting Skin (1990) | Philip Ridley's surreal psychological thriller restored and resurrected on Blu-ray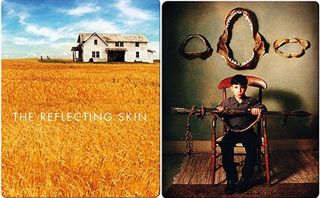 'Stunning beautiful... a Gothic masterpiece' THE GUARDIAN
'Haunting... Ridley is a visionary' ROLLING STONE
'A hypnotic first feature... a cult classic' SIGHT & SOUND
As mysterious deaths plague a small prairie town in 1950s Idaho, eight year-old Seth (Jeremy Cooper) comes to believe that the Dolphin Blue (Lindsay Duncan), a reclusive English widow living next door, is a vampire. Seth's worst nightmare comes true when his older brother Cameron (Viggo Mortensen) returns home from abroad and falls in love with the widow – will he be next? The truth is much more shocking than Seth could imagine…
Written and directed by Philip Ridley (Heartless) and hauntingly photographed by Oscar-Nominee Dick Pope (Mr Turner), this very strange, very surreal coming of age film caused a sensation at the 1990 Cannes Film Festival, went on to win eleven international awards, and has amassed an ever-growing cult following ever since.
Newly restored in a director-approved high-definition transfer, this is the first time The Reflecting Skin will be released on Blu-ray. Offering extensive, never-before-seen bonus features, including an art card signed by the director, this is a cinephiles must-have.
BONUS FEATURES
• Newly restored in a high-definition transfer from original elements
• All-new retrospective documentary covering the making of the film, including new and exclusive interviews with Philip Ridley and Viggo Mortensen
• Philip Ridley's short films Visiting Mr Beak (1987) and The Universe Of Dermot Finn (1988), available on home video for the first time
• Isolated score track
• Stills and poster art galleries
• Trailers
Thank you for signing up to Whattowatch. You will receive a verification email shortly.
There was a problem. Please refresh the page and try again.