The Third Man (1949) | Blu-ray release - Carol Reed's classic thriller gets a definitive restoration release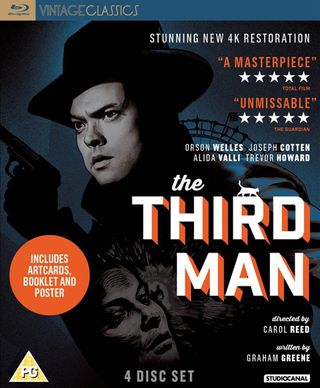 Once voted the 'Best British film ever made' in a poll by the BFI, 1949's The Third Man has been given a stunning 4k restoration and is now available to own on DVD and Blu-ray in a collector's edition that includes a host of brand new extras, from Studiocanal.
THE SYNOPSIS Holly Martins (Joseph Cotten), a writer of pulp Westerns, arrives in post-war Vienna on the invitation of his childhood friend Harry Lime (Orson Welles). But on arrival he finds that Harry has recently been killed by a car whilst crossing the street, leaving a grief-stricken lover, Anna (Alida Valli).
When local British investigating office Calloway (Trevor Howard) claims that Lime was an unsavoury criminal, Martins accepts an offer from a local book club to stay in Vienna in order to clear his friend's name. As he investigates his friend's last hours, he grows closer to the doomed Anna, and learns of an unidentified 'third man' at the scene of the accident, who may hold the key to the deepening mystery surrounding Harry's death.
THE LOWDOWN Upon its release in 1949, director Carol Reed (opens in new tab)'s atmospheric thriller The Third Man (opens in new tab) instantly became a classic, winning the Grand Prix at Cannes, a BAFTA for Best British Film, and the Oscar for Best Cinematography for Robert Krasker. Featuring some of cinema's most memorable set pieces and quotable lines, the film's Viennese locations quickly etch themselves in the memory. The city may have been bombed out and strewn with rubble, divided into four sectors by the Allies, but it still stood tall in all its faded grandeur.
The film was also the masterwork of it's key players – Carol Reed, Joseph Cotten and Orson Welles, as well as Graham Greene, who wrote the script while holed up in the now legendary Hotel Sacher (opens in new tab), where Cotten's Martins stays in the film, and composer Anton Karas, who was then a musician for hire playing in the wine gardens of Vienna when Carol Reed first encountered him. His six week work on the soundtrack resulted in a unique and melancholy zither score that has since become iconic.
THE STUDIOCANAL RELEASE The 4-disc Blu-ray collector's edition includes the Deluxe 4k restored print of the feature, the full soundtrack by Anton Karas, with zither music performed by Gertrud Huber, a set of postcards, and the following extras: • Audio Commentary with Guy Hamilton, Simon Callow & Angela Allen • Shadowing The Third Man featurette • Interview & Zither Performance by Cornelia Mayer • The Third Man Interactive Vienna Tour • Guardian NFT Interview - Joseph Cotten & Graham Greene (Audio Only) • Joseph Cotten's Alternate Opening Voiceover Narration • The Third Man: A Filmmaker's Influence featurette • Restoring The Third Man featurette • Dangerous Edge http://www.youtube.com/watch?v=r9yyDEDGlr0
Get the latest updates, reviews and unmissable series to watch and more!
Thank you for signing up to Whattowatch. You will receive a verification email shortly.
There was a problem. Please refresh the page and try again.