The Trouble with Maggie Cole on ITV – Start date, cast, plot and everything you need to know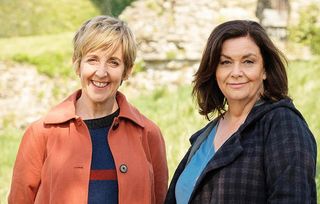 (Image credit: ITV / Genial Productions)
It promises to be a mix of Doc Martin and The Darling Buds of May
The Trouble with Maggie Cole is an offbeat drama, starring Dawn French and ex Coronation Street star Julie Hesmondhalgh, which starts on Wednesday evening .
The six-part series, set in the close-knit coastal resort of Thurlbury, revolves around a village gossip whose loose tongue causes serious consequences.
ITV has billed it as being in the tradition of Doc Martin and The Darling Buds of May.
Dawn says the script by Mark Brotherhood is fantastically funny and touching.
The Trouble with Maggie Cole start date: When will it begin on ITV?
It will start on Wednesday March 4th at 9pm. The Trouble with Maggie Cole was previously called Glass Houses.
The Trouble with Maggie Cole plot: What's in store?
Vicar of Dibley legend Dawn stars as bubbly Maggie, who loves to gossip. She wants to know every detail of her neighbours' lives. However, perhaps she should have listened to the old adage that "those in glass houses shouldn't throw stones".
The show's executive producer, Sophie Clarke-Jervoise, tells us: "Maggie's lived in Thurlbury all her life and knows everyone! Her husband Peter, played by [Benidorm star] Mark Heap, is the headmaster of the local primary school and she works at the castle's tourist shop, and is the catalyst to all that happens.
"It's the town's centenary celebrations and a radio journalist rings the castle asking to interview her about it. But when that happens in the pub, she accidentally has too much drink and starts to tell all the tittle-tattle in the town, little knowing that this is being recorded too…"
So, what's the fallout from the terrible interview?
"It's too much for some, and Maggie falls out with Jill, which hurts her," says Sophie. "But there's one particular story that turns into quite a dark crime thread. Each episode starts with the same incident – someone getting run over, with more revealed every time. So there's a whodunnit element too!"
MORE: Everything we know so far about The Nest
Who's in it?
As well as Dawn French, Julie Hesmondhalgh stars as Maggie's best friend Jill. Mark Heaps plays Peter, Maggie's husband of 21 years and headmaster of the local school. Other key cast included Vicki Pepperdine (Worzel Gummidge) as school secretary Karen and ex Casualty star Patrick Robinson as handsome part-time resident and best-selling writer Marcus.
The Trouble with Maggie Cole trailer: What does it reveal?
https://player.vimeo.com/video/391445245
"Thurlbury Nosey Parker spills local secrets," screams the local newspaper headline in the first look trailer. The trailer reveals that Maggie is well and truly "sloshed" when she gives her fateful radio interview. And she seems to have upset almost everyone in the village including her best mate.
What else do we know?
The series is six parts.
The castle seen in the series is Launceston Castle in Cornwall, which is part of English Heritage.
Get the latest updates, reviews and unmissable series to watch and more!
Thank you for signing up to Whattowatch. You will receive a verification email shortly.
There was a problem. Please refresh the page and try again.