7 things you didn't know about Morwenna Banks, who's Mummy Pig in Peppa Pig!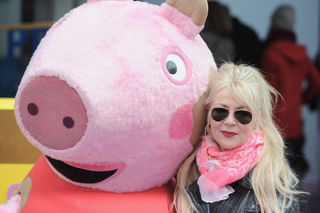 (Image credit: Zuma Press/PA Images)
'I don't particularly sound like Mummy Pig, so you wouldn't know it was me'
Mummy Pig is a children's favourite in hugely popular cartoon series Peppa Pig. And did you know that Mummy Pig is voiced by comedy star and writer Morwenna Banks?
Here's 7 things you didn't know about Mummy Pig star Morwenna Banks
1. Morwenna is married to David Baddiel
Morwenna, 58, is married to hugely popular comedian David Baddiel. The couple, who met on a BBC show called The Book Quiz, have two children together, a daughter Dolly and a son Ezra. The pair appeared together in David's Sky comedy Baddiel's Syndrome back in 2001. Talking about married life, David once told the Daily Mail: "It's great being married to a fellow comic – we laugh at the same things, which I think is essential to making a marriage work. Sometimes Morwenna calls friends and leaves a message in her Mummy Pig voice for their children."
2. Morwenna has lent her voice to many more shows than just Peppa Pig
Yep, as well as Mummy Pig, Morwenna has voiced characters for a huge number of other popular children's shows. Among them are characters in the new version of Danger Mouse, the animated series of Mr Bean, the brilliant Ben & Holly's Little Kingdom and Rupert the Bear.
3. She doesn't sound like Mummy Pig... but Daddy Pig actor Richard Ridings does sound like Daddy Pig!
Perhaps not that surprisingly, Morwenna doesn't actually sound like Mummy Pig and therefore people don't always realise she voices the character. Talking on This Morning, she said: "I don't particularly sound like Mummy Pig, so you wouldn't know it was me. But Richard, who's Daddy Pig, really sounds like Daddy Pig." Morwenna also voices Madame Gazelle and Dr Hamster the Vet on Peppa.
4. Morwenna penned a Drew Barrymore film
Morwenna wrote the 2015 film Miss You Already, which starred Drew Barrymore and Toni Collette. Based on her radio drama Goodbye, Miss You Already saw Morwenna pen the story of two best friends, whose relationship goes through big changes when one of them is diagnosed with breast cancer.
5. She's good friends with Jo Brand
Morwenna describes herself as being very old friends with Jo Brand and the pair came together to pen the C4 sitcom Damned, which is set in a Children's Services wing of a local council. Talking about the show, Morwenna told Cornwall Living. "Jo was a psychiatric nurse and her mum was a social worker so there was a wealth of experience for us to draw on and we work closely with a practitioner who advises us on protocol and on what might happen in certain situations."
6. Morwenna popped up in Holby City
Morwenna appeared in a 2005 episode of hit hospital drama Holby City, which recently celebrated its 1000th episode. She also enjoyed a role in the classic Red Dwarf episode Stasis Leak.
7. She has a link to EastEnders star June Brown
Morwenna and EastEnders favourite June, aka Dot Cotton, both support Drama Express, a Cornish theatre group that gives young people with disabilities a chance to get involved with the performing arts.
Main picture: Zuma Press/PA Images
Get the latest updates, reviews and unmissable series to watch and more!
Thank you for signing up to Whattowatch. You will receive a verification email shortly.
There was a problem. Please refresh the page and try again.