Thought for the Day from Diamonds are Forever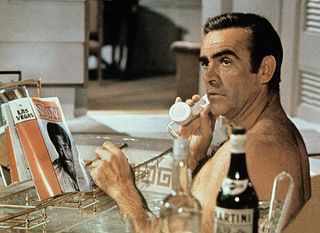 (Image credit: Allstar/Cinetext/UNITED ARTISTS)
Bond: That's pretty potent. Not the cork. Your after-shave. Strong enough to bury anything. But the wine is quite excellent. Although for such a grand meal, I would have expected a claret. Wint: Of course. But unfortunately, our cellars have run out of clarets. Bond: Mouton Rothschild is a claret. And I've smelt that after-shave before, and both times I smelled a rat. Diamond are Forever (1971) (opens in new tab)
Diamonds Are Forever is one of 9 James Bond films available on Blu-ray for the first time ever in the new Bond 50 Collection, which includes all 22 James Bond feature films from Dr. No to Quantum of Solace and more than 130 hours of bonus features including never-before-seen content from the Bond archives, and more.
Share this thought for the day on our Movie Talk Facebook page (opens in new tab) or Movie Talk Twitter stream. (opens in new tab)
Thank you for signing up to Whattowatch. You will receive a verification email shortly.
There was a problem. Please refresh the page and try again.