Tim Roth Sky Atlantic thriller Tin Star gets second series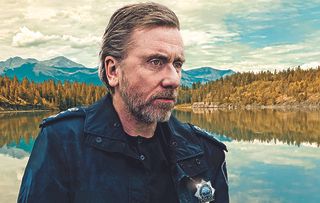 (Image credit: © Sky UK LTD)
Sky has ordered a second series of Tim Roth revenge thriller Tin Star before the first series has even begun on Sky Atlantic
Sky has ordered a second series of Tim Roth drama Tin Star before the first series has even begun.
The broadcaster appears confident that viewers will be gripped by the revenge thriller, which kicks off this Thursday on Sky Atlantic and NOW TV.
Set in the fictional, idyllic settlement of Little Big Bear, the 10-part tale stars Tim Roth as troubled British cop – and recovering alcoholic – Jim Worth, who longs for a fresh start with his wife Angela (Genevieve O'Reilly), teenage daughter Anna (Abigail Lawrie) and five-year-old son Petey (Rupert Turnbull).
His peaceful life is soon interrupted when an oil company, represented by the enigmatic Elizabeth Bradshaw (Christina Hendricks), sets up a new refinery nearby.
And when a horrific act of violence strikes his family, Jim's world is blown apart.
"I've done television before, including US series Lie to Me, and that was hard work but fun, but I really wasn't looking for another TV show. However, I thought Tin Star had an insanity about it that would be interesting," said Tim.
"Jim is a police chief and a family man, but he's also a blackout drunk who's trying to stay sober. I would say there's a Jekyll and Hyde vibe to his situation that becomes unleashed as the series progresses. We hope to take viewers to a very dark place."
Announcing the decision to give Tin Star a second series, Sky's head of drama, Anne Mensah said: "When Tin Star launches this week, Sky Atlantic viewers will not only experience a hugely powerful tale of revenge with captivating, uncompromising characters, but will be left in no doubt as to why a second series was an absolute must."
All episodes of Tin Star are available exclusively on Sky Atlantic and NOW TV from 7 September.
Get the latest updates, reviews and unmissable series to watch and more!
Thank you for signing up to Whattowatch. You will receive a verification email shortly.
There was a problem. Please refresh the page and try again.