Toby Jones and Vicky McClure to star in BBC spy drama, The Secret Agent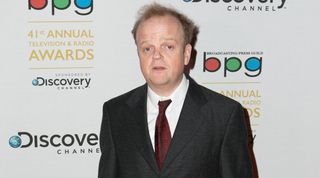 Toby Jones is to play the lead role in new BBC thriller The Secret Agent.
The Tinker Tailor Soldier Spy star will play Verloc, a Russian spy who runs a seedy Soho shop as a front, in the television adaptation of the Joseph Conrad novel.
Toby said: "I am both excited and intrigued by the challenge of playing Verloc the eponymous hero of Conrad's startlingly relevant novel The Secret Agent."
Vicky McClure will play Verloc's wife (Dominic Lipinski/PA)
The Marvellous actor will be joined by This Is England stars Vicky McClure and Stephen Graham, along with Ian Hart from Boardwalk Empire.
The Secret Agent will be directed by The Good Wife's Charles McDougall and is his first UK drama in 10 years.
The drama sees Verloc under pressure from Russia to provoke a group of London anarchists to spark a bomb attack that will trigger a government crackdown, thus dragging his own family into a terror plot.
Vicky, who will play Verloc's wife, Winnie, said: "I'm so excited to play the part of Winnie. It's an incredible script. And delighted to work with Toby Jones, I've always been a huge fan of his".
Stephen Graham will play the police inspector on Verloc's trail (Ian West/PA)
Stephen, who plays Chief Inspector Heat, a police officer tracking Verloc, added: "I am really excited to be a part of this project with some fantastic actors and an amazing director."
Filming will begin later this month.
Get the latest updates, reviews and unmissable series to watch and more!
Thank you for signing up to Whattowatch. You will receive a verification email shortly.
There was a problem. Please refresh the page and try again.