Tom Gilliford suffers the Star Baker curse and departs from Bake Off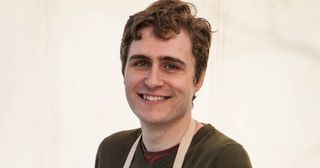 Tom Gilliford was eliminated from the Great British Bake Off on Wednesday night, despite being Star Baker the previous week
Two-time Star Baker champion Tom Gilliford has come to the end of his journey in The Great British Bake Off tent.
The 26-year-old was eliminated after his three dessert week creations left judges Mary Berry and Paul Hollywood unimpressed as the competition gets tough ahead of the quarter-finals.
He said: "The curse of the Star Baker well and truly struck for me after winning (it) for the second time in last week's episode.
"But I was so pleased just to get onto the show in the first place, and my wife said I wouldn't get to episode two! My whole aim was to get through to bread week, and as I watch it back now, I still wonder how I got this far."
The keen baker, who works for The Royal Society of Arts in London, said he could not believe he made it as far as he did after feeling inadequate in the first week.
He said: "I feel there are two halfway marks on the show; in episode five you feel you are halfway through the series, and then the second halfway mark is when you realise you are one of the last six bakers left in the tent, and that's a totally different experience.
"I felt in episode one that everyone was better than me, so I couldn't believe it when I got to the final six, but by that time, I felt that I earned my place."
Paul said that Tom should 'feel very proud of himself' for making it as far as he did.
Tom's winning streak started to unravel in the signature challenge as the bakers were tasked with creating a family-sized roulade – a sponge with added cream and filling, rolled into a spiral.
His take on a millionaire's shortbread as a roulade was criticised by the judges for being covered in a heavy layer of chocolate.
Mary critiqued: "The thing about a roulade is to get the spiral, but you've masked it."
The technical challenge saw the six remaining bakers tackle a marjolaine gateau – a delicate and elegant French dessert comprised of layers of meringue, filled with praline, buttercream and ganache and covered in nuts.
Tom confessed to having never made a praline before, and his effort came second-to-last in the blind tasting.
His showstopper was the final straw as his 'hipster picnic' carrot and apple mini-mousse cakes did not live up to the judges' exacting standards.
Tom said his time in the Bake Off tent was a 'very special experience' and that he loved the technical challenges, against the odds.
He said: "Even when you are having a down moment in the tent, it's a unique 'going wrong' moment. It is a very special experience."
Andrew Smyth, 25, was named Star Baker after coming top in the technical challenge and producing 24 childhood ice-cream flavoured mini-mousse cakes in the showstopper.
Tom will join Jo Brand on The Great British Bake Off: An Extra Slice on Friday. The Great British Bake Off continues on Wednesday at 8pm on BBC One.
Get the latest updates, reviews and unmissable series to watch and more!
Thank you for signing up to Whattowatch. You will receive a verification email shortly.
There was a problem. Please refresh the page and try again.