Tower of Evil (1971) | Blu-ray release - Sex, sand and slaughter are on the menu in the cult British slasher shocker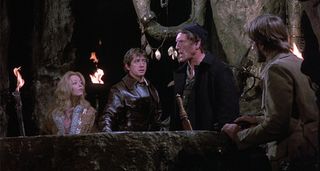 This lurid British shocker is a gleefully ghoulish celebration of the permissive Seventies, with lots of nudity, pot smoking, and some really groovy hippy clothes on display as a series of grisly murders are carried out at a ruined lighthouse on an island off the English coast.
Tower of Evil has been given a glorious remastering in HD and is released on Blu-ray and DVD from Screenbound Pictures (opens in new tab) (formely Odeon Entertainment). The special features include an audio commentary from producer Richard Gordon and film historian Tom Weaver, a retrospective featurette with Jonathan Rigby, trailers and a gallery. READ MORE… (opens in new tab)
http://www.youtube.com/watch?v=ee5fZPkJnic
Thank you for signing up to Whattowatch. You will receive a verification email shortly.
There was a problem. Please refresh the page and try again.