Trailer Trash – The Social Network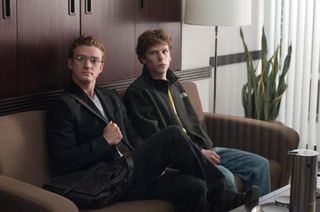 Facebook connects people. In fact, it connects more than 500 million people globally, according to membership figures revealed in July this year. If my growing list of unanswered friend requests on Facebook is anything to go by, it most commonly connects people with long-forgotten former schoolfriends (sorry Steve, but the only thing I remember about you is your haircut) and bothersome ex-colleagues (sorry Jess, but you spoke too loudly on the phone and your fish-paste sandwiches used to stink). It also connects pop superstar Justin Timberlake with Zombieland actor Jesse Eisenberg (above) – the pair star in The Social Network, the forthcoming big-screen drama about the creation and tumultuous early years of Facebook. Here's the trailer…
https://www.youtube.com/watch?v=lB95KLmpLR4
After a slow (but appealingly-scored) opening sequence, the trailer begins to gather pace when Jesse Eisenberg is introduced as Mark Zuckerberg, the computer whiz who – intent on taking the social experience of life at college and putting it online – launched Facebook from his Harvard dorm room in 2004. Six years later he became the youngest billionaire in history. But he didn't do it alone and the trailer teases an interesting insight into the often fraught interactions between Zuckerberg and his cohorts, including Eduardo Saverin (Andrew Garfield) and Sean Parker (Justin Timberlake).
Directed by David Fincher (Se7en, Fight Club, Zodiac) and written by The West Wing creator Aaron Sorkin, this promises to be a slickly-produced drama about friendship, ambition and money. Facebook may have connected 500 million people, but its creation appears to have torn people apart.
The Social Network is released on 15 October 2010.
Get the latest updates, reviews and unmissable series to watch and more!
Thank you for signing up to Whattowatch. You will receive a verification email shortly.
There was a problem. Please refresh the page and try again.